By Monday morning, most of the Hesterman clan had already said their good-byes and left the reunion. The only people left were my family (the three of us, plus my mom, stepdad and sister) and my cousin Molly, Arturo and Santiago. We spent most of the morning loading up our car, and by the time we were finished Molly & Family arrived at the house after checking out of their hotel.
When Molly, Heather and I were kids, we were proud members of the Cousins Club. We were basically inseparable and staked out a little cubby hole in Molly's basement as our club headquarters. We played down there for days on end whenever we were together. We even had a Cousins Club flag, pledge of allegiance and logo. This past fall, Molly shared with me the great news that she was pregnant by mailing me a onesie for Ellie with the Cousins Club logo on it. When I called her to tell her I received it, she oh-so-casually mentioned that she had ordered one for her baby, too! It was a very fun way to share the news, and I was so excited for the day when our babies could wear their matching Cousins Club onesies together. Well, that day came on the last day of the reunion! And so, we set up a little Cousins Club: The Next Generation photo shoot. Ellie was especially excited.
Santiago in his onesie, accessorized with his trademark stripes, and Ellie in her onesie, accessorized with her trademark yelling.
Ellie, now you're just scaring poor Santiago!
Hey, she may be mad on the couch, but it's nothing a little change of scenery can't fix!
Hanging on to Aunt Molly's finger
Come here, cousin, let me give you a hug!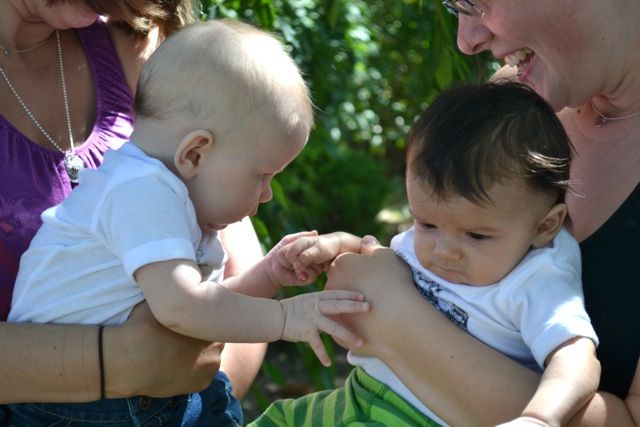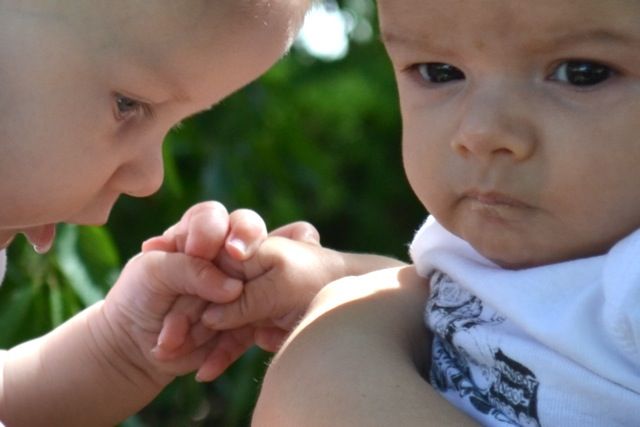 It just melts my heart. They're going to be great friends, I just know it!
And of course, we had to get just a couple more group shots, because we really didn't take enough family photos over the course of the weekend.
Cousins Club Charter Members, and Generation 2
And then it was time to officially say good-bye. Eric, Ellie and I hit the road again in attempt to make it back to NYC in time to pick Achilles up from his 17-day stint in the kennel that night (spoiler alert: we didn't make it), and Molly & Family left after lunch, followed by my sister that afternoon and my mom and stepdad that evening.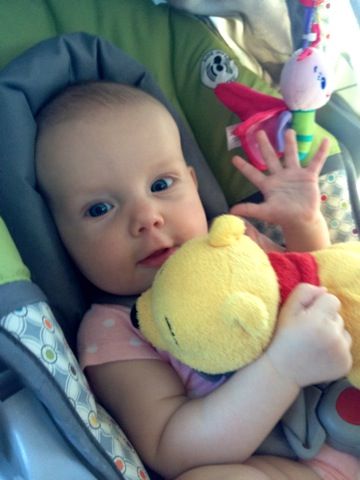 Bye, Cleveland! Bye, family!
Our ride home with Ellie was a little bit rougher than our ride there, as she did her trademark "No Napping In Cleveland" thing so she was completely spent and not happy about it. I did my best to keep her entertained (read: distracted), and we did ultimately make it (and it was not nearly as bad as our return trip the first time around, back in June). Actually, as soon as we entered Hoboken, she turned into the World's Happiest Baby. This girl just loves to be home!
I may have tried one or two toys to distract her.
Quick driving lesson at a rest stop
A glorious, glorious car trip sight
I had to snap this picture because I feel like it really says something about the previous four months of my life, or something: the exercise ball (the one thing that always calms Ellie down) rides shotgun.
And so, the reunion officially came to a close. We extinguished the torch, to make an Olympics analogy. It was a fantastic weekend. I feel so blessed to be a part of such an incredible family, made up of so many amazing people - people who all put forth the time, money and effort to get together with each other to celebrate a great man's birthday. It was so wonderful for me to not only be there myself, but to take my baby girl to her first Hesterman reunion, a tradition that has been so important to me for my entire life. Thanks so much to all of you for making this reunion weekend so memorable. I hope we will be seeing all of you again very soon! Love you!