The Saturday of our Florida trip was pretty relaxed. Eric golfed with his brother in the morning, while I had a little get-together with some high school friends.
Cathy and Fran and I were all great friends in high school. We were all in the band together and Cathy and I had lots of classes together, and both ended up at the University of Florida after graduation (Gator school!). Fran and I had lots of fun (senior year especially) with beach and mall outings, parties, etc. It really was good times. Actually, Fran and Cathy, while I was in town I found my old Nor'easter with our senior wills in it and I laughed out loud when I read it! Oh, memory lane. I hadn't thought about most of those things in years. We sure did have fun, didn't we?
Anyway, both Cathy and Fran also have baby girls of their own. Fran's baby girl Hailey was born last September, and Cathy's baby Claire was born just days before Ellie (Cathy also has an adorable five-year-old son named Avery). So, it seemed only natural that we should get together and introduce our girls.
My friends came over to my dad's house Saturday afternoon and we had a wonderful time catching up and watching our babies play. Hailey was crawling all over the place, and Cathy made me jealous of her Claire's napping ability. Ellie, of course, was refusing to nap (have we noticed a recurring theme here?) so I spent a lot of time bouncing her on the exercise ball, but at least I could enjoy some good conversation with my friends while doing so!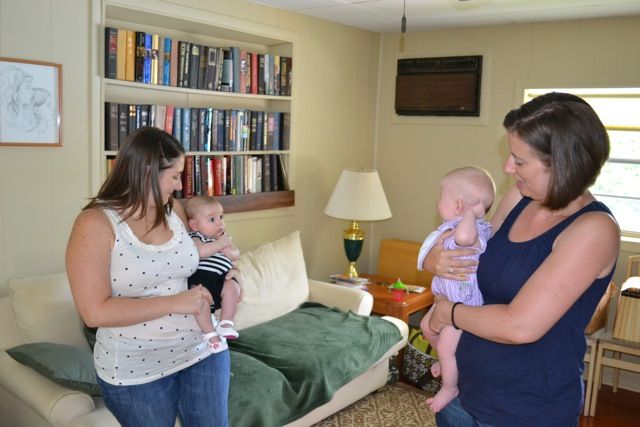 Hopefully this is a picture of Claire using mental telepathy to teach Ellie how to be an excellent napper.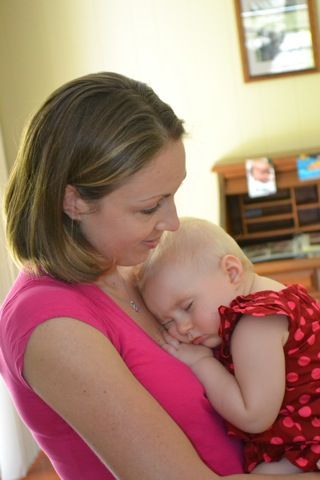 Sweet Hailey sleeping on Mommy Fran
Fran and Hailey, me and Ellie, Cathy and Claire - yay!
Ladies, thank you so much for coming over! It was so wonderful to see you and to meet your sweet babies. Maybe someday our girls will be good friends, too! NEHI Band c/o 2030, perhaps?