Ready for some more family reunion fun?!
On the Friday morning of our reunion, Eric got up early to do some golfing with my Gramps, Uncle Nathan and Gary. Eric beat my grandfather by one stroke. Can you believe that?! He just
had
to beat the 90-year-old man, right? On his birthday weekend, no less? I shake my head in Eric's general direction. But, at least they all seemed to have a good time.
Gramps, Uncle Nathan, Eric and Gary
Meanwhile, back at the house, it was business as usual - talking, eating, admiring babies. More family started to arrive: my uncle Peter and Rosemary, and my Uncle Mark, Aunt Rachel and cousins Adam and Sarah. The whole rest of the day was very relaxed, mostly spent visiting with our loved ones and doing all the usual reunion activities, including ping pong, horseshoes, wiffle ball, etc. Basically, the reunion standard, just with more people (and more generations!) than ever!
Uncle Mark would like to offer you some watermelon.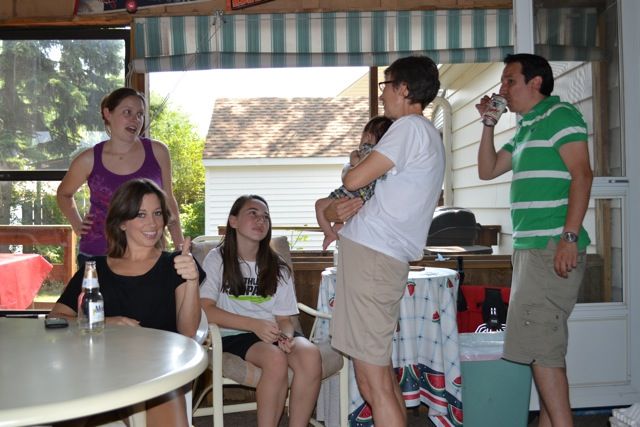 Molly, Heather, Taylor, Rosemary, Santiago and Arturo hanging out on the lanai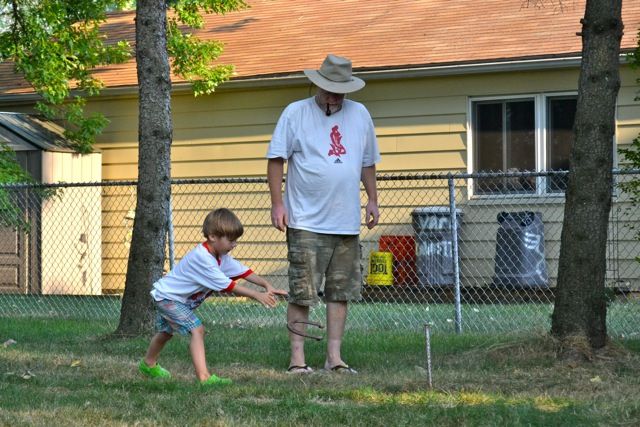 Uncle Nathan introducing Henry to the game of horseshoes, a favorite family pasttime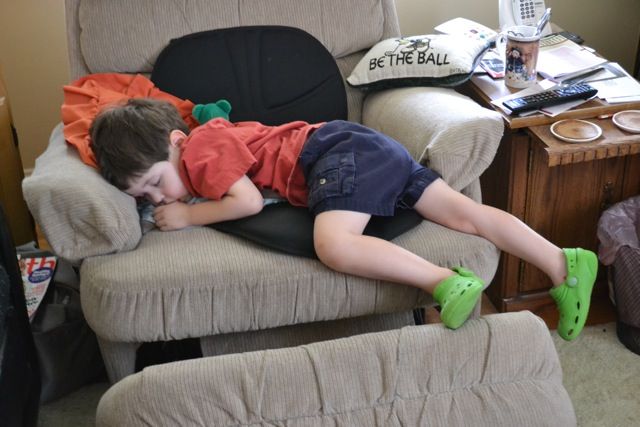 Jackson did a little snoozing...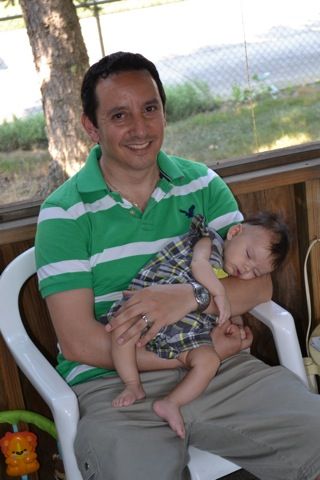 Santiago did A LOT of snoozing...
...And Ellie did NO snoozing. Seriously, could her eyes be more open?
(P.S. Ellie would like you to know that GRASS IS SHOCKING)
Henry playing some wiffle ball with Eric
Eric hit the ball and nailed Henry right in the stomach! Henry thought it was hilarious but Eric was totally shocked.
That evening we ordered pizza for dinner, and many of us went for another family walk. It was a beautiful night.
Uncle Peter and Gramps leading the way, followed by my mom, Ellie and me
Walking with Ellie and my sister
That evening, we watched the Olympics some more, the children played, Santiago snoozed, and the adults drank wine.
Uncle Mark playing with Henry and Jackson, with some of Uncle Nathan's childhood toys!
Arturo and sweet sleepy Santiago
Heather, Eric, Alex, Taylor and I were the party animals of the night, staying awake to talk and answer crazy Eric questions. Eric also got Alex and Taylor to ask some crazy questions of their own, and it was great fun. It was nice to sit and talk with them and get to know them better!
By the end of Friday, we were just three people shy of everyone being present and accounted for. It wasn't a very action-packed day, but it was great to have a full day to just be casual around the house and catch up with everyone. I just love that my family makes such an effort to get together like that!
Coming up tomorrow: a fun day at the zoo!