Last Tuesday, while we were in Florida, Ellie went for her very first dip in a swimming pool. I have to say, pool/beach-wear suits her:
She's such a little supermodel.
We started by wading into the water gradually, and spent some time watching Grandpa swimming around and blowing bubbles.
Checking out the giant bath tub
Then we decided to try out Ellie's fancy new raft, which went pretty well for a second...
...but fell apart pretty quickly.
So, it was back to holding her for a while.
We wanted to protect Ellie's fair baby skin from the Florida sun, so after a few minutes Eric took her into the shade while I relaxed in the water a bit longer.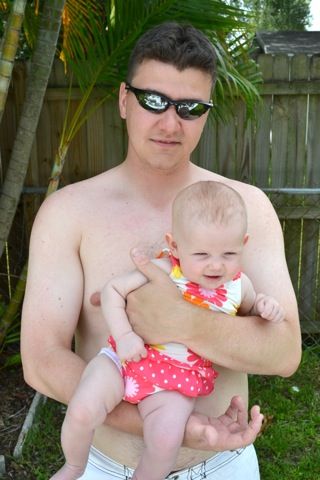 I'd say it was a pretty good introduction to the pool, all in all. It's funny to think that in just a couple of years, she'll be so excited to go to Grandpa's house to go swimming! I have a feeling that day will come much faster than I expect...