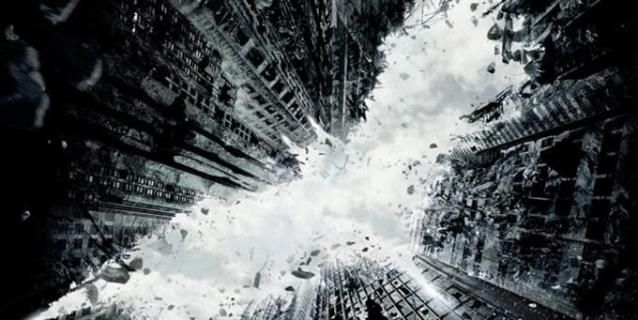 Tonight at midnight, my handsome husband will be making his big screen debut as one of Gotham City's finest in the long-awaited, much-anticipated new Batman movie,
The Dark Knight Rises
!
Eric on set in his Gotham PD uniform
You may remember when
Eric was cast as an extra
in the movie, and he was a part of the
massive fight scene they filmed in NYC
back in November. In honor of his big show biz break, Eric will be attending a Batman marathon in IMAX tonight, complete with a showing of the new movie at midnight. I know he'll be watching closely to see if he actually ended up on camera! If you're also going to the movie, keep your eyes peeled for him in the big fight scene that I believe is at the end of the movie, when the bad guys and the Gotham PD collide in one epic battle.
Police and bad guys, preparing to brawl
There were literally hundreds of extras, so of course we may not be able to pick Eric out of the crowd, but I sure hope we can! How cool would that be?!
Regardless of whether or not he actually made it into the movie, Eric did get to rub elbows with the cast and other celebrities at the movie premiere at the Lincoln Square theater in NYC on Monday. He saw Christian Bale, Anne Hathaway, Gary Oldman, Joseph Gordon-Levitt, Morgan Freeman, Christopher Nolan, Marion Cotillard, Chris Daughtry, Ron Howard, Russell Simmons, Cillian Murphy, Hines Ward, Bill Cowher, Michelle Trachtenberg, Hailee Steinfeld, Aziz Ansari, Jay Manuel, Pharrell, Donald Trump and more! (All will be included on our
NYC Celebrity Sightings
list as soon as Ellie's naptime allows!)
Christian Bale and Gary Oldman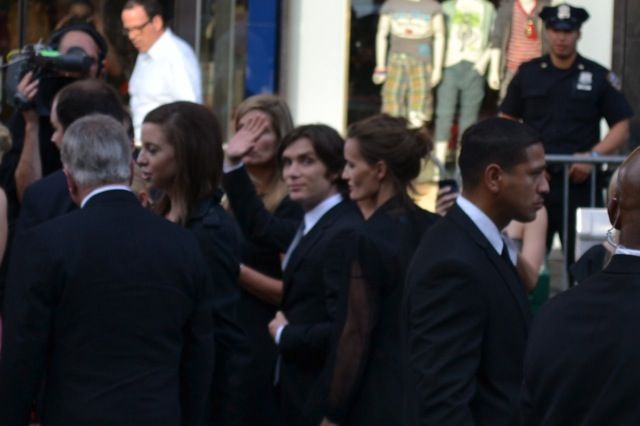 Joseph Gordon-Levitt being all mysterious behind a passing bus
Marion Cotillard, and a shot of the black carpet
Are you going to see
The Dark Knight Rises
this weekend? If so, keep an eye out for Eric! And don't tell me anything about it, please - I'm planning to see it during our Florida trip next week!
In the meantime, I'm just basking in the glow of being married to a movie star!