Last night Eric and I had another weeknight date night, this time to see
How to Succeed in Business Without Really Trying
on Broadway. I have had this show on my January calendar ever since I heard that Darren Criss would be taking over for Daniel Radcliffe in the lead role of "J. Pierrepont Finch" for three weeks this month, before Nick Jonas comes in for a longer run. We all know how
I love me some Darren Criss
, so I was all, "sign me up for that!"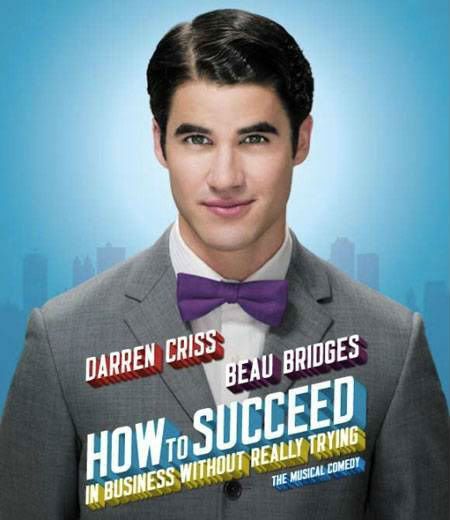 Darren Criss in How to Succeed in Business Without Really Trying
Eric was very sweet and knew how badly I wanted to see this, and time was running out as Darren's run ends on Sunday. So, yesterday he took a break from work and went to get us tickets at TKTS. He had actually planned to try for the lottery in the morning, but apparently that's a "camp out" situation, which we did not realize. So, as of an hour before lottery ticket distribution, he knew there was no chance. That left us with TKTS as our best option, and Eric came through. He's a keeper, I'll tell you what. This is twice now that he has inconvenienced himself to enable me to see Darren! That's love.
Eric and I met up after work and walked west over to our old neighborhood. Man, I miss it like crazy. Even with as much as I do like Hoboken, if it were not so incredibly financially stupid to do so, I would move back to our old neighborhood (and preferably our old apartment) in a heartbeat. It just still feels like home over there, even though it has almost been a year (already!) since we moved on out. Our savings account sure was happy about the change, but I still miss it!
Anyway, we grabbed some pizza on 8th Avenue then found our way to the theater. We found our (rather cozy) seats and the show began shortly.
The theater before the show
As soon as Darren Criss was visible on stage, the crowd went wild! Darren sure does have a faithful fan club.
The show itself was great; I thoroughly enjoyed it. It was funny and cute and Darren was just about as charming as could be. Beau Bridges ("J.B. Biggley") was also excellent, as was the rest of the cast. Darren will only be a part of the production for a few more days, but I liked the show so much overall that I definitely recommend it, regardless of the lead!
Darren Criss and Beau Bridges
Ever since learning of Darren's January Broadway run I have been devising a plan which would result in him hugging a crazy pregnant lady outside the theater, so needless to say, we planned to hang out by the stage door after the show for autographs/pictures. However, when we saw people start leaving the show before it even ended (presumably to stake out the best spots by the stage door), I knew we were in trouble. Sure enough, by the time we got outside after the show, the crowd was probably 10-deep back from the door, and continued across the street with people scaling lightposts and the whole shebang. I just did not have the energy to fight with that kind of a crowd, even for the sake of another photo with my beloved Darren. The original picture will just have to do!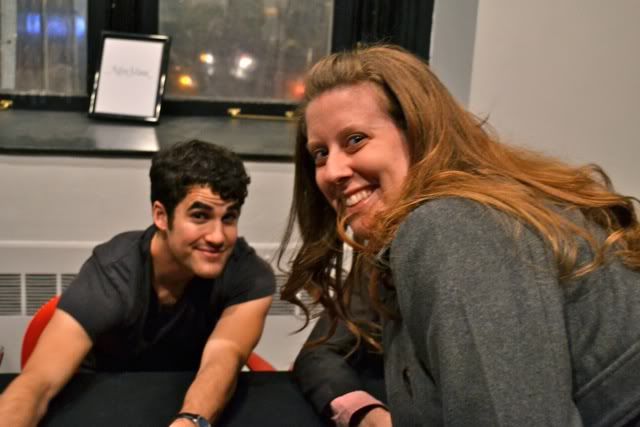 Me with Darren Criss at Joe's Pub last month
Another great night at another great show! I love this city!