(Holy uninspired title, batman. My apologies.)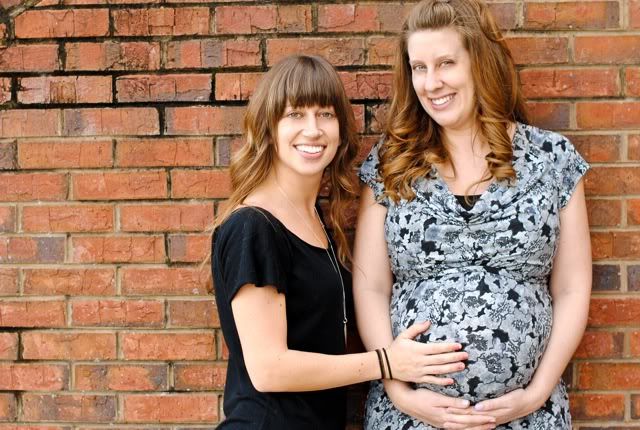 Hanging out with my sister in Florida last weekend!
(Photo courtesy of my friend Kristina!)
So today is Friday and I'm just now getting around to recapping the rest of my Florida visit last weekend. This has been one crazy week. Eric and I have a ton of stuff going on right now, and lots to figure out life-wise (baby stuff, apartment stuff, etc.) so it feels like there just aren't enough hours in the day. But hey, it will all work out, right?
Anyway, I thought I should recap the rest of my wonderful Florida trip. My flight down there last Friday was very smooth, with the exception of a super-crowded subway ride to the airport. I do have to share this story, just because I have been giving the men of NYC such grief about being selfish jerks who won't give pregnant women a seat on the subway. On Friday, the train to the airport was so packed not only did I realize there was no chance I would get a seat, I was even afraid I wouldn't be able to get on at all with my big ol' suitcase. But, I managed to squeeze in and rode standing in front of the doors for a few stops. Then, a man standing next to me said, "excuse me, would you like to sit down?" I said, "well, yes," but thinking "you're standing too, so what are you offering me here?" He then said, "no problem" and went right over to another man sitting at the end of the row of seats and said to him, "excuse me, she's pregnant, would you offer her your seat?" Naturally, the seated man got up, because what do you say to that, and I was floored. Such chivalry! Not only did this man notice a poor pregnant lady with a suitcase standing on the crowded train and take pity on her, but he went out of his way to ensure that she was taken care of. And I won't lie, I was very happy to have that seat for the 45-minute trip. He may have single-handedly redeemed all NYC men in my eyes. So, thank you to that kind stranger! You made my day.
My sister picked me up at the airport in Tampa on Friday night and we went back to my dad's house, where we went to bed pretty quickly. On Saturday morning we got up and started shower prep right away, and then it was shower time, but hey, I've already told you all about that.
After the shower Molly helped me organize all the lovely gifts Baby Girl received while Mom and Aunt Debbie handled the clean-up in the kitchen. Heather was singing a gig that night, so she had to take off right away. Then Mom, Debbie, Molly and I went out to a tasty (albeit slowly-served) dinner at Chili's. After dinner, we bid farewell to the moms and went back to my dad's house, where Molly and I stayed up till the wee hours of the morning just chatting, largely about babies. Who knew two preggos could be such party animals?!
Sunday morning, Heather came back over to hang out with Molly and me until it was time to take Molly to the airport that afternoon. Boohoo, it was over so quickly! But I'm so glad Molly could make it to the shower - thanks for coming, cousin!
After dropping Molly off, Heather and I went over to my friend Kristina's house because, upon hearing that I did not plan to have maternity photos taken, she very kindly offered to snap a few for me if I had some time. So, I took her up on that offer. It was great to have a little extra time to hang out with her, plus we got to see her husband, two sweet little children and her cute animals. Her little girl thought that my sister was a real life princess and greeted us in full princess-wear herself, which was about the sweetest thing ever. Kristina, your kids are such cuties!
In addition to hanging out with her beautiful family, we had a lot of fun snapping some pictures around her home and neighborhood. Thanks so much, Kristina!
Just me and my basketball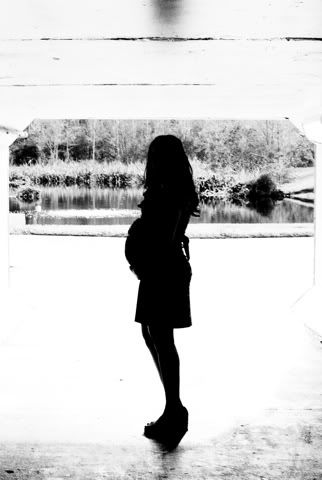 Pregnant lady hanging out under a bridge
After my photoshoot, Heather, my dad and I went out to a lovely dinner then back to my dad's house for a bit. Heather left a short while later, and I hung out with my dad watching football until I just couldn't keep my eyes open anymore. Then it was off to bed for a few hours before catching my early morning flight back to the Big Apple.
Meanwhile, Eric was back in NYC dealing with the dog and the snow: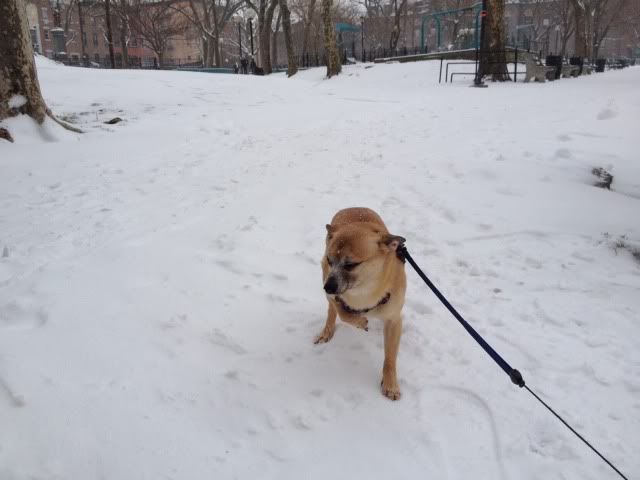 (Don't worry, I did yell at Eric for taking the dog out in the snow without a coat. Tsk, tsk!)
Of course, after a morning like that, all Achilles wants to do is snuggle:
Poor pup trying to get warm
And, you know, occasionally get into mischief:
Eric ran an errand and came back to find the dog on the kitchen counter. You know, the usual.
Also, while I was gone, Eric was left to his own devices and seized the opportunity to have his giant remote-controlled inflatable shark filled with helium so he could play with it.
Shark flying around our living room
VIDEO: Shark in our living room
I will admit, it's pretty cool. But does anyone have one of these and know when they finally deflate? That thing is still going strong and it's not exactly an easily kept out-of-the-way kind of toy. But hey, it makes my husband happy. I'm sure it's only the first of many in-the-way toys to find their way into our household, am I right?
So that was our weekend, both in FL and NYC! This weekend promises to be much quieter - errands, maybe a movie, maybe some cleaning. We're really living on the edge!
Enjoy your weekend, friends!