So, the verdict is in - Baby W. is now Baby GIRL W.! How awesome is that?! Eric and I are thrilled, to say the least.
Friday was pretty much the coolest day ever, so I want to talk more about it because I don't want to forget a thing. So, bear with me on what may be a long-winded pregnancy post. It was just too fantastic to leave it be with only a simple "It's a girl!"
Eric and I both took the day off work on Friday, and walked over to Hoboken University Medical Center for our 9:30 appointment. We were about 15 minutes early because I knew I had to register first, but the registration line was crazy long. So long, we missed our appointment and they let someone else go ahead of us. By the time we got registered and got in to the ultrasound, it was after 10:00. Why not add a little more suspense to the whole thing, eh?
When we finally got in, as always, I was so excited to see Baby pop up on the screen right away. She was moving all over the place in there! In fact, she was making it hard for the ultrasound tech to get all the measurements and pictures she wanted. I joked that she's already a fidget, just like her dad. But, one at a time, she would let us get a look at all her little parts - her pretty little head, her spine, her 10 fingers and 10 toes (the tech said she has long fingers, so I can only assume she'll be an excellent pianist some day!), her perfect little beating heart.
I just loved watching her move around. At one point, she gave us a thumbs up, and at another, she had her hands clasped together. She also had her feet right together for a bit, and for a quick second we were able to see her mouth moving in a chewing motion. It's just so cool to see!
The action slowed down for a bit then as Baby settled in and made herself comfortable. The tech just needed one last view of the heart to get everything she needed, but Baby refused to budge and stayed in a position that was no good for the desired heart view. As the tech fussed around to try to get the angle she needed, I asked if this angle was at least good to tell the sex of the baby. I figured it was, as she was laying in there with her feet over her head! (I guess modesty is something we'll have to work on later.) The tech said, "You want to know?" and we said "YES!" And then came the beautiful words - "It's a girl!"
I cried. My hunch all along was that it was a girl. For whatever reason, ever since the beginning, I have been thinking of the baby in terms of "she" and "her." I have been worried about girl names more than boy names. I've envisioned girly nurseries. Of course, I would have been thrilled with a boy and I do hope Eric and I will have a son someday. I would love that. But I was delighted to hear that my "mother's intuition" had been correct and I will have a daughter. A daughter! How fantastic is that?
Because Baby Girl was still being stubborn (she's a spirited little thing, isn't she?), the tech had me get up and walk around a couple of times to try to get her to move. This time, Eric and I went out to the lobby and paced back and forth and talked about our baby girl. I just couldn't believe it.
After a couple of tries to get her to shift, Baby Girl still wasn't having any of it and the tech couldn't get the heart view she wanted. So, we decided to call it quits for the day. The tech did say that the heart looked just fine, she just couldn't get the prime angle on it. She also told us that the kidneys seem to have a little extra fluid in them - within the normal range, so nothing to worry about, but at the higher end of the normal range. Given all that, she wants us to go back in a month for a follow-up ultrasound to try to get that heart picture and to check on the kidneys. I would have loved a 100% clean bill of health for Baby Girl, but I'm not worried here and I'm excited to see her again in a month!
Want to see a couple pictures of our little one? Here she is: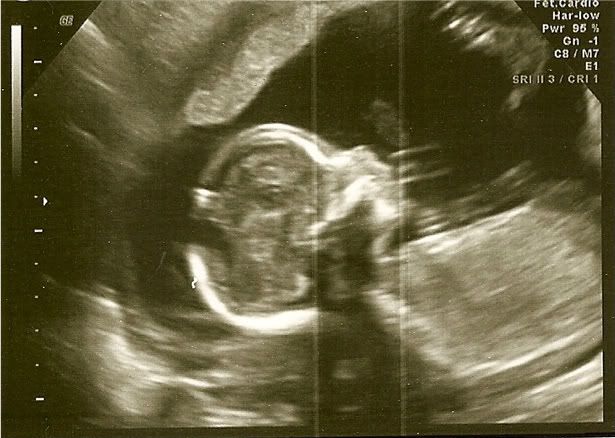 A foot! It looks pretty long to me - maybe she'll have long, narrow feet like her size-9.5-foot mother.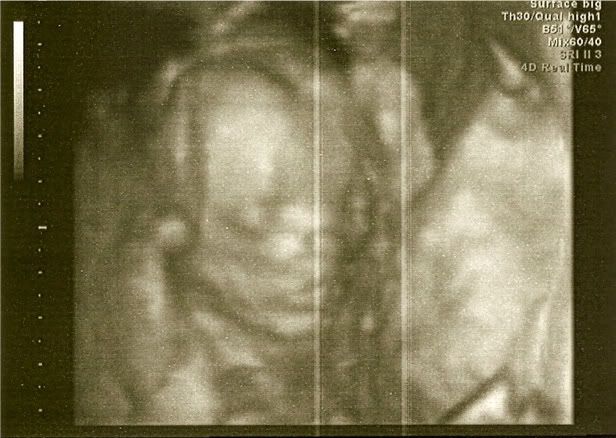 The tech took this one 3D photo of her face. Usually I think these types of photos look kind of alien, so I must be biased here, but I think she looks beautiful! Look at that pouty little lip!
We left the hospital in a daze (or at least I did!). We decided to celebrate by going into the city to hit up the big Babies 'R Us in Union Square, where we wandered for quite some time. We spent a while playing with the strollers (and finally decided on one, hooray!), and then spent even more time looking at baby clothes. We ended up purchasing a sweet little pink dress for Baby Girl, which she may be able to wear as an Easter dress if she is born in time!
Baby Girl "trying on her dress" (hey, as much as possible right now), and Achilles checking out his little sister's wardrobe. I think he approves.
We stopped for some lunch then went back to Hoboken, where we picked up some pretty pink roses and a bunch of pink balloons to celebrate.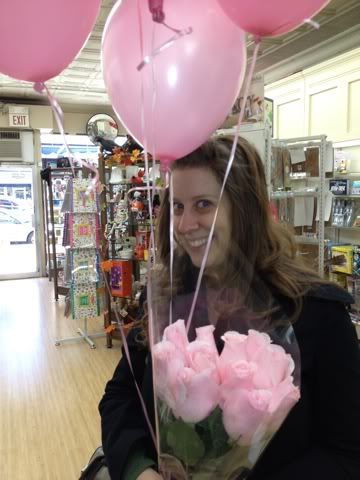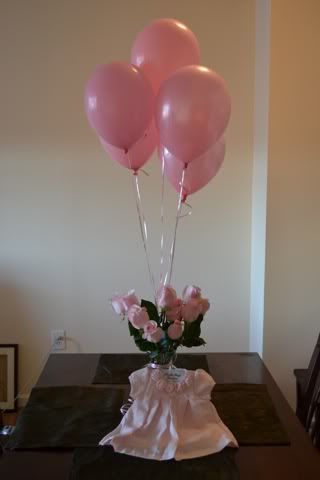 A celebration for Baby Girl!
We spent the rest of the afternoon making all the necessary phone calls to tell our family and friends the good news. A girl! Hooray! I still don't think it has really sunk in yet that I am going to have a daughter, but I am just too excited for my own good. I don't think I slept much at all this whole weekend because I was far too wound up.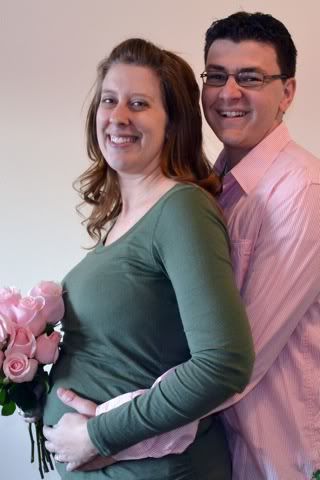 A picture of her parents to commemorate the occasion
In other baby news, tomorrow I will hit 20 weeks - the halfway mark! Twenty weeks down, 20 to go. I can't decide if it's going really fast or really slowly, but it's going! Halfway!
Also, that pretty little pink dress is
not
the first thing we bought for Baby Girl. Last week, I caught a great sale at JC Penny, where there was a nursery furniture set I have had my eye on. Not only was the set on a good sale, but I also had a 25% off coupon (plus free shipping!), which made the price too good to pass up. And so, we bought our nursery furniture! Can you believe that is the very first thing we bought for Baby? We didn't waste time with onesies or booties, no sir. Go big or go home, people.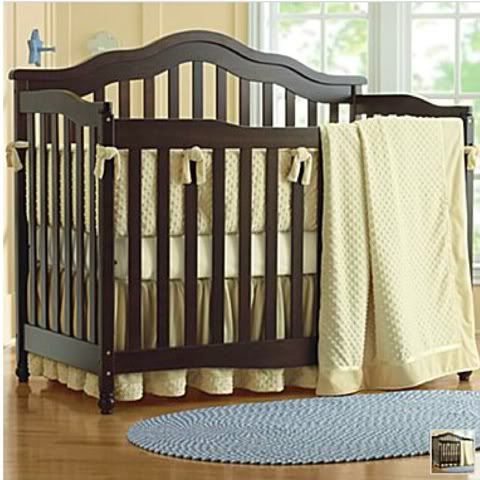 This is the crib - I love the scalloped edge at the top
The dresser that will serve as our changing table and will hold Baby Girls' things
(There is also a chest of drawers with the set, that will help us store more of our stuff)
Of course, I use the term "nursery" loosely - by "nursery" I really mean "corner of our bedroom," but whatever. The furniture was on backorder which I thought would actually be perfect, as we did not plan to order the "big stuff" until later so we could save the space for a while. But, I got an email yesterday that it has already shipped! So, it's time to start sorting through our bedroom stuff and making room!
And that's the update! We have a little Baby Girl on the way! Now, let the name decision-making begin...