Well folks, this is THE DAY - as this post goes live, Eric and I are at the hospital for the Big Ultrasound. Will Baby W. be a boy or a girl? The world will finally have answers!
But, the blog world will have to wait. As much as I would love to post an instant update, I have a strict "immediate family does not find out important news via the blog" policy, so I'll update here as soon as all the appropriate parties have been personally notified. Suspense! I have no doubt your breath is bated. So stay tuned!
In the meantime, let's talk Batman. Eric had his costume fitting for his role as a Gotham PD extra in the movie a couple of weeks ago, but I'm not allowed to talk about it. I'm also not allowed to talk about the filming when that happens (this weekend!). Apparently they made all the extras sign super specific confidentiality forms, so Eric is not allowed to discuss anything - not the movie, the filming, the costumes, the "actions of the actors," etc. Obviously I would hate to jeopardize this opportunity for Eric, so my lips are sealed. I will post a full recap of Eric's experiences when the movie comes out, but until then, you'll have to make do with our usual celebrity-watching antics!
The Dark Knight Rises
has been filming in NYC for the last week or two, and we've been trying to keep an eye on things. Last week Eric got a great sneak peek when they were filming at Trump Tower on Fifth Avenue, which is quite close to our office buildings. Eric took a break from work and ran over to scope out the scene.
And the scene was this: they had put up a "Wayne Enterprises" logo over the doors to Trump Tower, Gotham Police cars were parked out front, and a fancy-looking car sat nearby (yes, that is the extent of my car knowledge).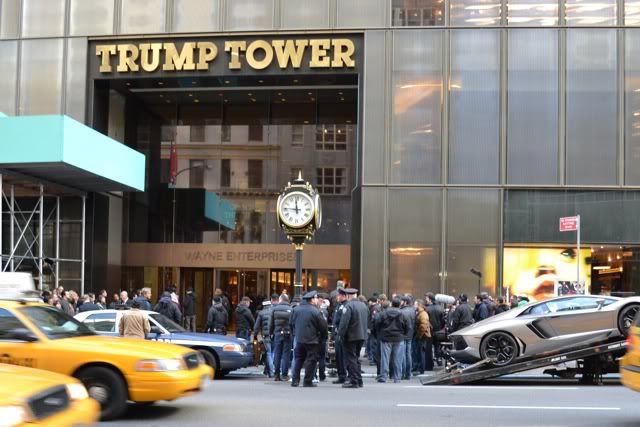 The general scene on Fifth Avenue
Fancy car - maybe Bruce Wayne's ride?
Eric wasn't expecting much, but soon got excited when he spotted Christopher Nolan. Hey, if the director is there, things must be happening.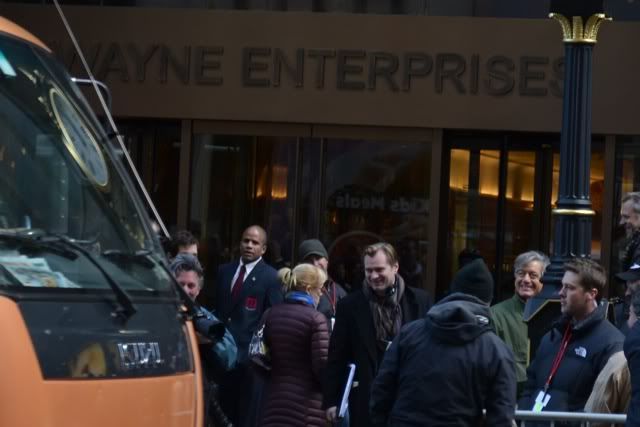 Before long, Eric's theory proved correct. They started off filming a scene in which Christian Bale exited "Wayne Enterprises" and met up with Gotham Police officer Joseph Gordon-Levitt.
Christian Bale standing outside Wayne Enterprises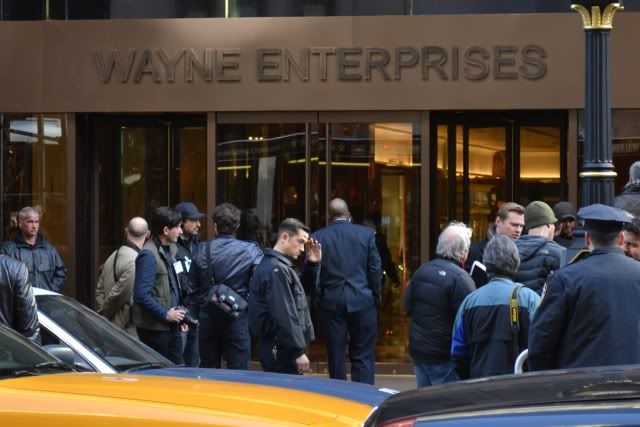 Joseph Gordon-Levitt is there in the front, with his hand by his face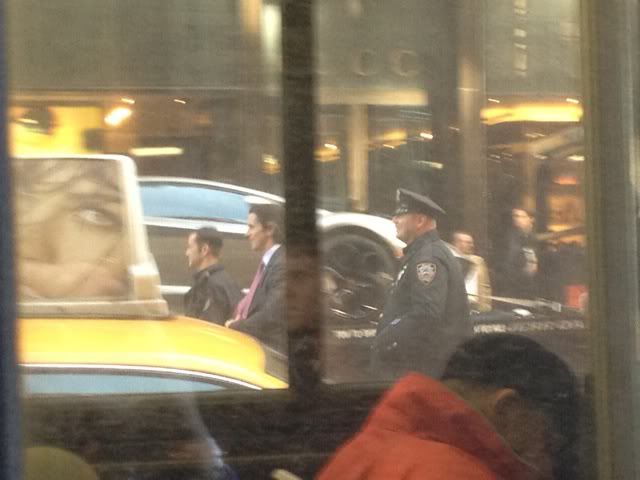 iPhone pic of Joseph Gordon-Levitt and Christian Bale walking together
Then they changed things up a bit to film Christian Bale again exiting Wayne Enterprises, but this time stopping to talk to reporters. Eric said they used real paparazzi/reporters for this scene.
Christian exiting the building to waiting reporters
Heading over to the crowd of photographers
Pretty cool, right? I will say that because Eric has already had this opportunity to see "Bruce Wayne" in action, I hope when he films his scene he'll get to see "Batman," in full costume and everything. Maybe even the Batmobile! You better believe I'm going to go try to watch Eric's scene, so hopefully there will be something good to see then like there was here at Trump Tower (er, excuse me - Wayne Enterprises)!