On Tuesday night Eric and I went to see
Memphis
on Broadway, thanks to my office's Social Club. The Social Club offered up discounted orchestra-level seats to this show, so I was all over that.
Memphis
has been on my short list of shows to see, ever since it was all over the Tony Awards in 2010 (including a win for Best Musical). Plus, just recently Adam Pascal (the original "Roger" from
Rent
) joined the cast in the male lead role of "Huey Calhoun," and I was quite interested to see him. So we definitely jumped at this opportunity, and because the Social Club had a few extra tickets, Dave and Salua were able to join us. It was a lovely evening!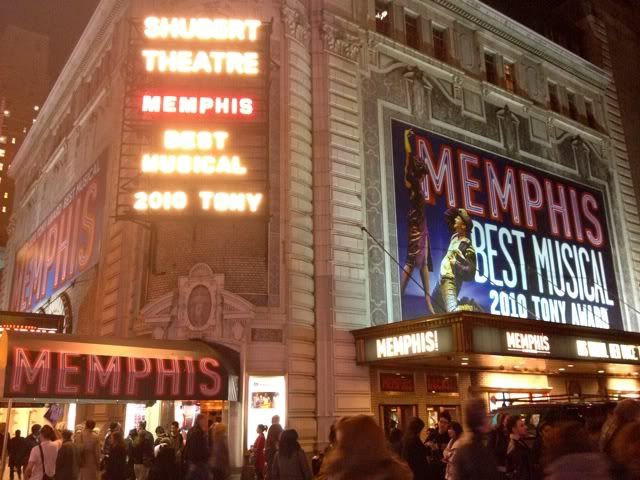 Memphis at the Shubert Theater (because we came straight from work, we didn't have the good camera with us, so iPhone photos will have to do)
The show was really, really good. I can see why it was such a presence at the 2010 Tony Awards! Good story, great performances, wonderful singing and fabulous dancing. My favorite singer was J. Bernard Calloway in the role of "Delray" - what a beautiful voice! I loved his "She's My Sister" number with Adam Pascal. James Monroe Iglehart ("Bobby") was also exceptionally entertaining in his "Big Love" number, with his awesome dancing! I also particularly loved Adam's "Memphis Lives in Me" towards the end - wonderful. All in all, it was a great show and I highly recommend it.
As we left the theater after the show, we saw a crowd and heard the sound of screaming fans outside the theater of Hugh Jackman's latest show. Lo and behold, Hugh himself was on his way out and was taking time to sign autographs. I find Hugh nice to look at, although Eric felt he looked older in person.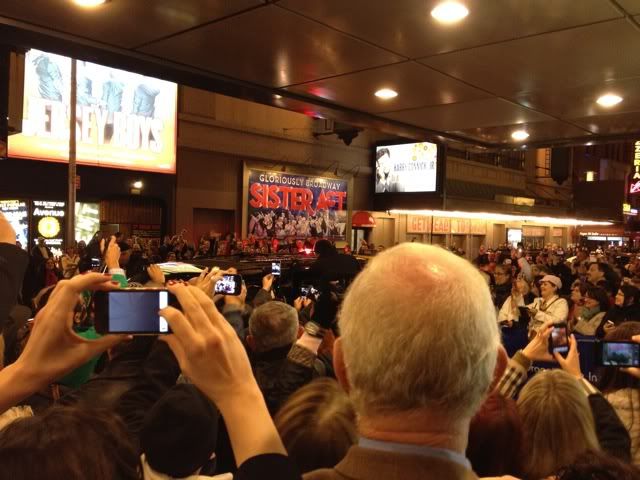 Crowds trying to get a photo of Hugh Jackman, who is standing up on the edge of a waiting SUV before he got in (you can see the back of his head)
After the Hugh excitement, we went back to the
Memphis
stage door to wait for the stars. We saw many castmembers come out, and all were very friendly and willing to sign autographs. We got the autographs of Montego Glover ("Felicia") and Adam Pascal, and I posed for a pic with Adam! And of course, we told them what a wonderful performance they gave that night.
Montego Glover signing autographs outside the Shubert Theater
Ahhh, just another lovely New York evening!