When I left off yesterday, we had enjoyed a full day of sightseeing in lovely Chicago. After taking some time to rest and refresh in our hotel, we headed back out to the train to catch a ride to U.S. Cellular Field.
I was excited about this game because the White Sox were playing my hometown Cleveland Indians, so I was actually interested in the outcome of the game. Sometimes I make a fuss about Eric dragging me to all these different baseball stadiums on his "Visit All 30 MLB Stadiums" quest, but really, I generally enjoy baseball, and I like going to games, even if I don't care about the teams playing. I like the atmosphere, the crowds, the hot dogs and the beer. It's good times. But really, we've been baseball-ing it up
so much
this summer, at so many different stadiums, watching so many different teams, that I'm getting a little tired. So, being invested in the game itself this time was a nice change of pace.
And, U.S. Cellular Field officially put Eric over the halfway point on his quest - it was Stadium #16 of 30! Woohoo!
The stadium itself was perfectly nice. I wouldn't say it was a favorite, because it was just a pretty standard new stadium, but we liked it just fine. It didn't hurt that it was also a
perfect
night for baseball!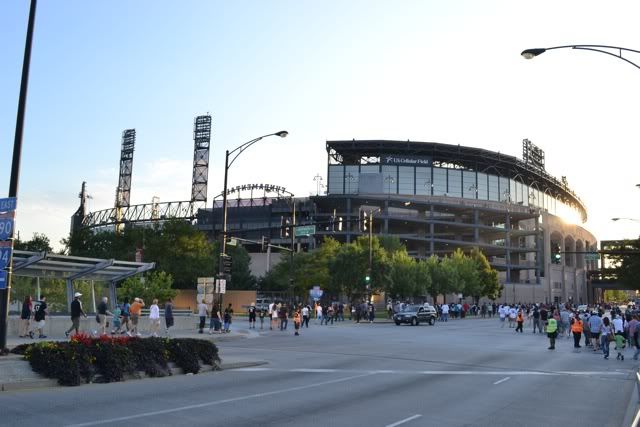 View of U.S. Cellular Field as we walked in from the train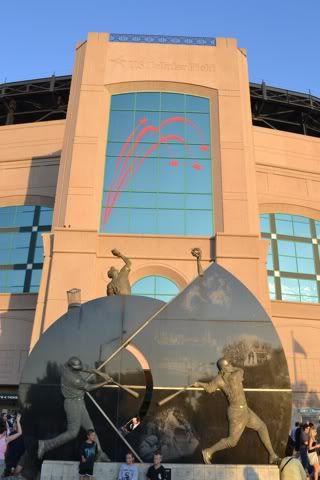 There were lots of statues inside, like this one of Frank Thomas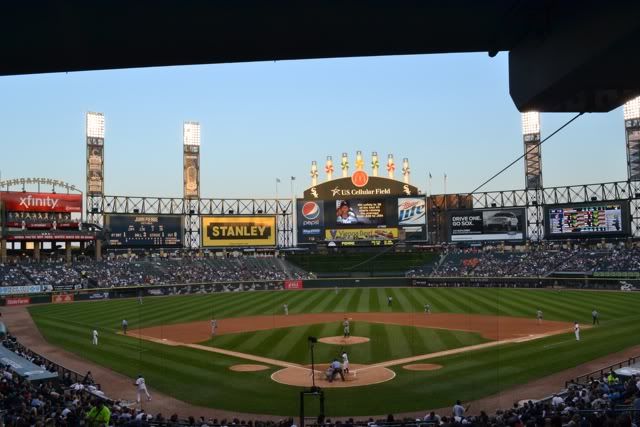 We settled into our seats and watched some baseball. The Indians were very well-represented in the crowd, I must say. There was even an adorable little Indians family next to us, with several cute little boys all dressed in their jerseys and caps with gloves in hand. Fairly early on in the game, the White Sox hit a home run and the Indians dad caught it, so they were all excited. It was rather cute. (Of course, I fully admit that it was probably largely cute
because
they were Indians fans...if they had been Yankees fans, eh, not so cute! Ha.)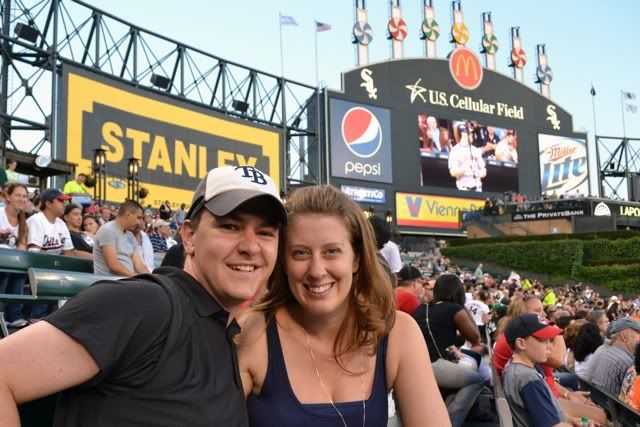 (Side note: can you believe that in my rush to pack on Tuesday night I forgot to pack any Indians gear?! Shame! Cleveland shuns me. At least I wore a blue dress!)
Another highlight was Indian Matt LaPorta hitting a home run right to our section. As you may recall, we are BFFs with LaPorta after
a meet and greet with him
at Yankee Stadium thanks to the Gotham Gators. Go Tribe and Go Gators!
As the night wore on, we did a little stadium exploring.
Lovely night for baseball!
I liked this one - statues playing catch!
Of course, we also picked up a souvenir cup for Eric, and had some hot dogs and chips for dinner. Yup, our fourth anniversary dinner was hot dogs and chips. Ladies, if you are thinking of marrying a baseball fan, let this be a cautionary tale.
Oh! I almost forgot about the most awesome thing ever, which was this guy:
That guy has a MARGARITA BACKPACK. So, you can be sitting in your seat all happy and rested, and then decide you feel like a margarita, so then you just flag this little guy and his backpack down, and he comes over to you and pours you a margarita right there on the spot. Where has this guy been all my life?! Or better yet, why do I not own this backpack for trips to the beach (or, you know, just carrying around the city)?!
All in all, it was a lovely night at the ballpark. The Tribe ended up winning 4-2 (yay!), and we had a great time. Plus, that's one more stadium crossed off the list!
U.S. Cellular Field at the end of the night - so friendly!
Are you sick of baseball talk yet? Well, I hope not, because tomorrow we're talking about Wrigley Field! Stay tuned!