Last Friday, Eric and I went to our second Chicago baseball game. This post is slightly out of order, as we did do some sightseeing between the two games (and you know how I am bothered by things being out of order), but I thought it made sense to lump the baseball talk altogether. So let's do this!
We made our way out to Wrigley Field via train around noon on Friday, for the 1:00 Cubs v. Cardinals game. The train ride out there was insane - talk about crowded! But, we made it!
Eric was quite excited as we made our way around the stadium and saw that oh-so-familiar sign on the front!
This was definitely an important one on the list!
Eric holding our tickets in great excitement, and both of us ready for some baseball!
Cute little band playing out front
Wrigley Field was stadium #17 for Eric, and #12 for me. We really are plowing through that list, aren't we? And I have to say, Wrigley was one of my favorites. Of course, it's rather old compared to many of the stadiums we have visited, but I loved it. It didn't have all the bells and whistles of the newer stadiums, just a small concourse with crowded food stands, and seats right up along the field. There is barely even any advertising along the field, thanks to the ivy-covered walls of the outfield. Add to that the charm of one of only two hand-operated scoreboards remaining in Major League Baseball (the other is at Fenway), plus organ music instead of the usual modern walk-up songs, and it all just felt so authentic. This was how baseball was meant to be watched, if that makes sense. It was quite charming.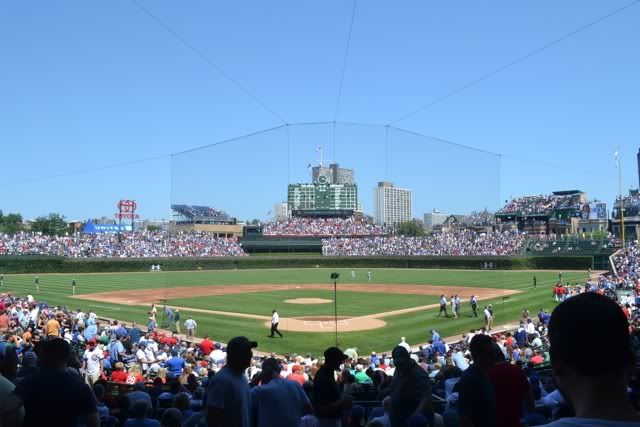 The hand-operated scoreboard
The view from our seats (and look - there's that little band again!)
"Hey, Hey!" on the foul poles
Another thing that I found adorable was all the restaurants/rooftops surrounding Wrigley, on top of which the building owners built bleacher seats so that many fans can watch the game without even setting foot in the stadium. Cuteness.
See all the buildings in the outfield, with bleachers on the rooftops?
We snapped this pic of the rooftop buildings from outside the stadium as we were leaving!
As I mentioned in my first Chicago recap, we were also treated to a bit of an air show throughout the game as various jets zoomed overhead in all kinds of formations.
I guess they are kind of hard to make out, but do you see the cluster of planes to the right of the scoreboard?
Once again, it was a glorious day for baseball. Our seats were in the shade, and it was probably in the high 70s under that overhang, with a nice breeze. Does it get better than that? Oh, yes it does - let's add a hot dog and a delicious Lemon Chill, and then it's just heavenly.
The Cubs ended up beating the Cardinals in extra innings, although we didn't stay that long. We did make sure to stick around for the seventh inning stretch, though, when Larry King sang "Take Me Out to the Ballgame!"
Larry King is allegedly up in that press box somewhere, although we never caught sight of him.
Ah, another great afternoon at the ballpark, and yet another ballpark crossed off the list!
Coming up tomorrow: our last bit of Chicago sightseeing!