Boy, I really have fallen off the face of the earth over here, haven't I? This lack of posting is out of character, I know. But our lives have taken a turn for the crazy lately and I just haven't had the time or energy to devote to blogging, which is a bummer, because I like blogging. Such is the life of an adult though, right? I'll try to get my act together and get back into the swing of things ASAP. Next week, for example, is going to be a fun week, but we'll cover that later.
We have still been doing fun things in my absence, of course. For one thing, last weekend Eric's friend John came to visit. John and Eric are old friends from high school, and John was a groomsman in our wedding. Now he lives out in Arizona, so it was nice to have him visit for the weekend. John was our first visitor since we moved to Hoboken, and the boys did all sorts of fun things!
When John got into the city last Friday afternoon, Eric left work early and they hit the town. They met up in Bryant Park, and tried to go into the NY Public Library but John had a suitcase with him and thus was not allowed in. They picked up some pizza at Little Italy Pizza (Eric says it's the best near Grand Central), then walked up to St. Patrick's Cathedral and through Rockefeller Center, then over to Times Square, where they stopped into the M&M Store and Toys 'R Us. They caught a movie in Times Square, then walked back to our old stomping grounds for some BBQ at Daisy May's. They ate their dinner by the Intrepid before grabbing the ferry back to Hoboken. (Yes, you're right - that is an awful lot of walking to do with a suitcase.) That night we hung out at the apartment, playing some Wii and other games, including a 246 Wii bowling effort from Eric and an hour of Mario Kart victories for John.
On Saturday, they did some downtown stuff: ice cream at the Ice Cream Factory in Brooklyn, Brooklyn Bridge, Wall Street, the Bull, Battery Park.
Pretty (albeit hot) day by the Brooklyn Bridge
John by the Brooklyn Bridge
We always have people take a picture with these silhouettes, and they always pose differently!
The boys on the Bridge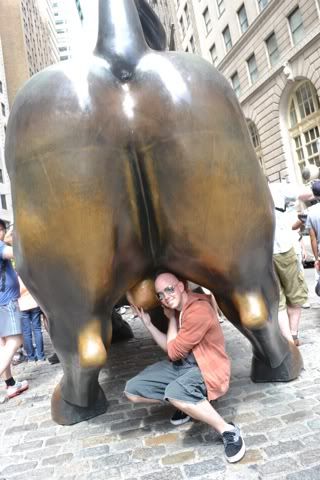 You know what they say: you gotta grab the bull by the...wait, that's not right.
With the Statue of Liberty at Battery Park
As I understand it, the highlight was Battery Park, where John was chased by a turkey for a considerable distance. Now that's just good stuff. (Also, I feel like it says something about New York City that when Eric texted me and said "John just got chased by a turkey in Battery Park," I was unsure if he meant an actual turkey or a person dressed as a turkey, and both seemed equally plausible.)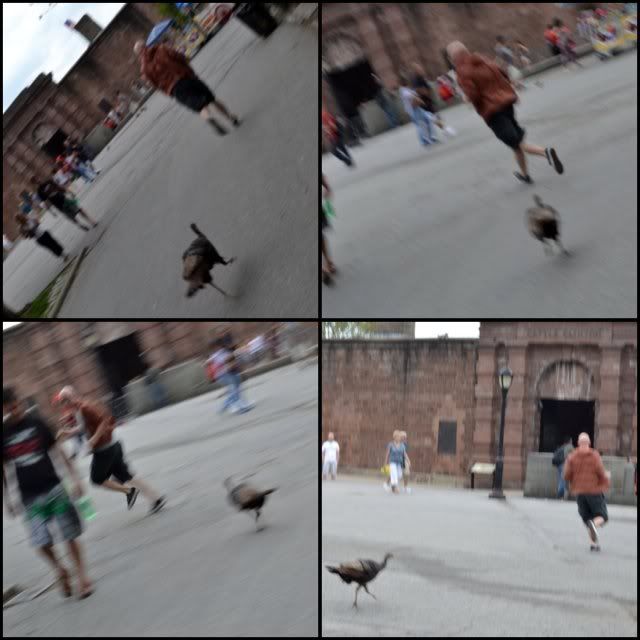 John being chased by a turkey!
From there they went up to Madison Square Park, where they considered (and decided against) waiting in the Shake Shack line, checked out the Flatiron Building, then made their way home.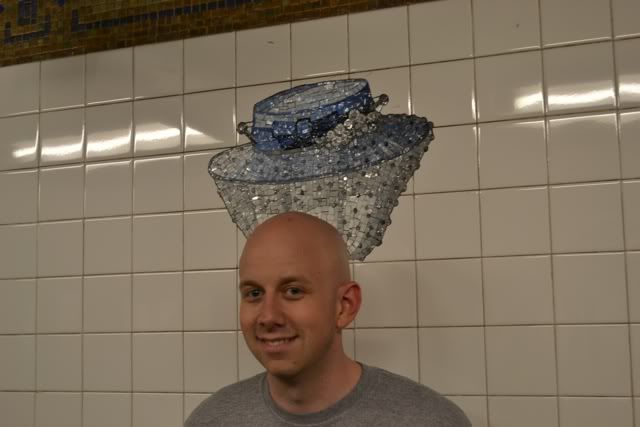 The boys came home and got in a solid workout playing Mario and Sonic at the Olympics. We got pizza for dinner and spent the night in playing more video games and watching Michael Clayton. Much needed relaxation after a long day of walking!
On Sunday, Eric and John went out to Citi Field to see the Mets play the Braves. (They finally got their Shake Shack lunch there, too!)
Eric was not pleased with the composition of this shot.
Inside Citi Field
At the game
That night, we stayed in again with more pizza, more video games, Spy Game and a little guitar lesson for Eric.
The next day the boys hung out until Eric had to head into work, then he bid John farewell. Thanks for coming, John!