We're back from our trip! We had an absolutely fabulous time. I liked Chicago so much more than I expected, and I'm so glad we jumped at that cheap airfare and made this trip. What a great way to spend our anniversary!
Speaking of our anniversary, thanks to everyone for your sweet congratulations and comments on my last post! It made us smile to see so many well wishes and kind thoughts coming our way throughout the day. And thanks also to all of our Chicago friends who chimed in with tips and suggestions for our trip!
As per usual, I'll be splitting up our Chicago trip recap into manageable smaller posts, hopefully all coming up this week. This week does promise to be a little crazy over here, though - I know have mentioned a few times how crazy life has been lately, but I failed to mention that one big reason for that is the new full-time job I picked up at a publishing company. It has taken some adjusting to my new schedule (and figuring out how to fit blogging into it!), and I'm still working on it, but I'm getting there! On top of that, I also have a fairly large jury consulting project on my plate this week, so I'll be double-jobbing it. Good stuff, right? So, getting my Chicago recaps done on top of all that may be a bit ambitious, but I'll give it my best effort!
In the meantime, I have four pictures to show you that I think best sum up our time in Chicago. We did some great sightseeing on Thursday, saw the Indians beat the White Sox at U.S. Cellular Field, did more sightseeing on Friday, saw the Cubs play the Cardinals at Wrigley Field, and then enjoyed a beautiful Chicago evening to close out our trip. Perfection!
The Bean! I loved Millenium Park.
Cheering on the Tribe at U.S. Cellular Field
Wrigley Field was one of my favorite stadiums we've seen so far!
Romance by the river on our last night
Stay tuned for more coming up this week!
Of course, while we were gone Achilles had a little vacation of his own. We tried another new boarding place, this one very convenient to us. He had been there for daycare once and was given an excellent report card afterwards, so we took him back for this trip. I like this place because they post pictures of the dogs each day on their Facebook page, so we could keep an eye on our pup during our trip! He seemed to be having fun, so this obsessive dog-mom could rest easy.
See him in the middle there?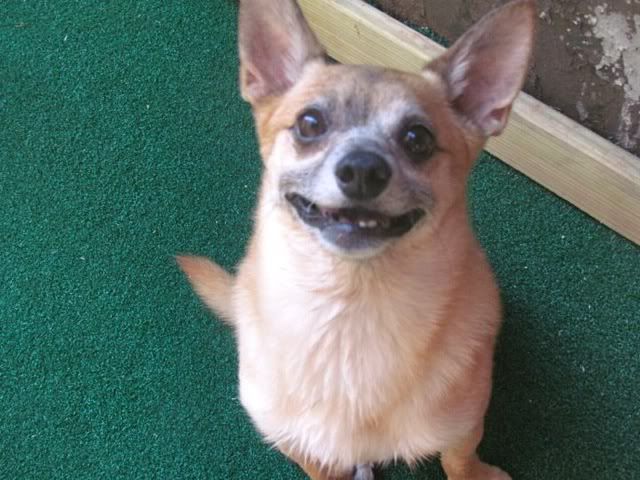 A face only a mother could love?
Enjoy the rest of your weekend, friends - I'll be back this week!