I mentioned yesterday that Eric spent the morning of New Year's Day golfing the Pinehurst No. 2 course, which was the whole reason for our stop in North Carolina. It was a course Eric wanted to golf, and they happened to have a charming resort with a lovely spa (sold!), and it was a good overnight stopping point for our return trip from Cleveland. So, we stopped.
Because my golf knowledge is still seriously lacking (much to Eric's chagrin), I asked him to do a little recap of his golf outing to share. And thus, Eric's golf day:
* * * * *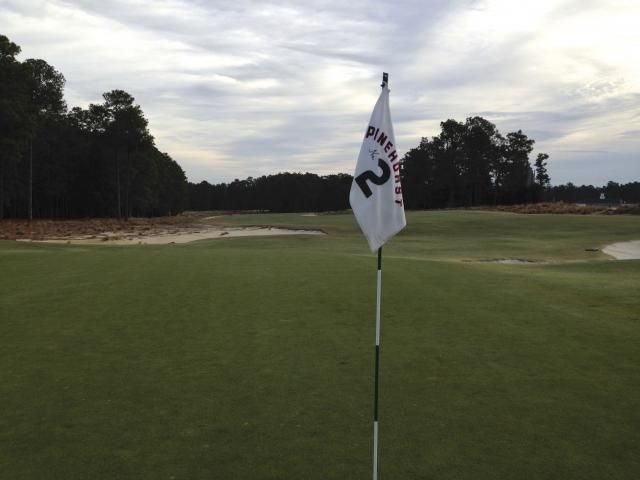 View of 18 from the green
Among many nicknames, Pinehurst has been called the "St. Andrews of United States Golf," the "Cradle of American Golf" and the "Golf Capital of the World" (though there are many other places that lay claim to this last one). The resort itself has eight golf courses, six of which leave from the clubhouse on the property. The most famous is the No. 2 course, which has appeared on all 49 Golf Digest rankings of the top golf courses in America, rising as high as 9th in 2002. In addition, it has hosted more rounds of championship golf than any other course in the United States, including the PGA Championship (1936), Ryder Cup (1951) and the U.S. Open (1999, 2005, and this year!).
Thanks to the fantastic Evergreen Package and an even more fantastic wife, I was able to book a tee time to play the No. 2 course on New Year's Day. I realized there were decent odds that the weather would not cooperate, but I figured it was worth the risk. Because it was winter, the first tee time wasn't until 9:00, which gave me time to sleep in and ensured I would be able to finish at a reasonable time (which I did, in under 3.5 hours!). More practically, it also gives any frost plenty of time to melt. You can imagine my delight when the weather ended up being perfect that Wednesday morning, sandwiched between a torrential downpour the weekend before and freezing temperatures at the end of the week.
On New Year's Day, I hopped on the three-minute shuttle from the Carolina Hotel before 8:00 and arrived before the pro shop even opened. I was so early, the flags hadn't even been placed on the greens. I took some pictures of the grounds and of the Hall of Fame statues just off the 18th green.
Payne Stewart forever immortalized in a pose he struck on the very green he overlooks. See? No flag on the green.
After checking in, I met my caddie for the day and we headed over to "Maniac Hill," the driving range. I then took some more pictures and putted for a bit before teeing off and finding the first fairway, which has become pretty standard for me on these kinds of courses.
Donald Ross sign overlooking the first hole: "I sincerely believe this course to be the fairest test of championship golf I have ever designed."
To make a long story short, I really enjoyed the course. There is no rough (by design) and the pine straw and waste areas surrounding the fairways make it very difficult to lose a golf ball (which I didn't!). This is not to say the course isn't challenging, which it can be if you are not completely in control of your game; it's just that there aren't a lot of big numbers to be had. Jack Nicklaus described No. 2 as a "totally tree-lined course without a single tree coming into play." While he clearly wasn't talking about me, the recovery shots were pretty interesting/possible and only added to the fun of the round.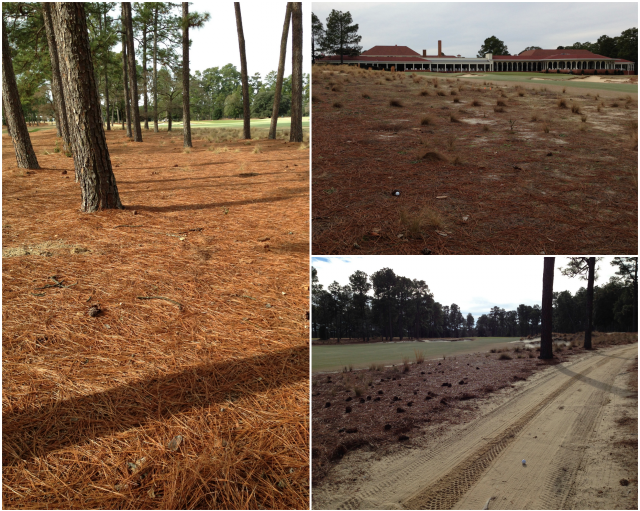 Left: This was the spot for my second shot on #11, which went straight through the trees and onto the green.
Right, top: Approach shot on 18; Right, bottom: Tee shot on 10
Besides having to control your golf ball and think strategically about placement, the greens are what really make Pinehurst so difficult. According to the resort, they are "some of the most complex and widely hailed in the world." Designed by Donald J. Ross, and steadily tweaked over the years after he relocated to a home near the third and fifth greens, they are the best example of his signature "crown" style. Though unkind to my score, it was pretty neat to watch approach shots that would be on the green anywhere else roll back 20+ yards off the putting surface, even with the over-seeded winter conditions. That said, I managed to roll in a 15-footer for birdie to shoot a backside 42, which may or may not have contributed to my fond memories of the round. Needless to say, I would play again in a heartbeat and can't wait to watch the U.S. Open this summer.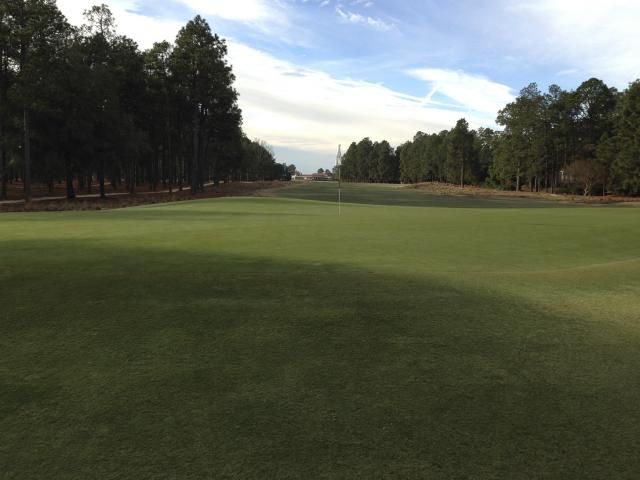 The second is a good example of the "crowned" greens at Pinehurst No. 2.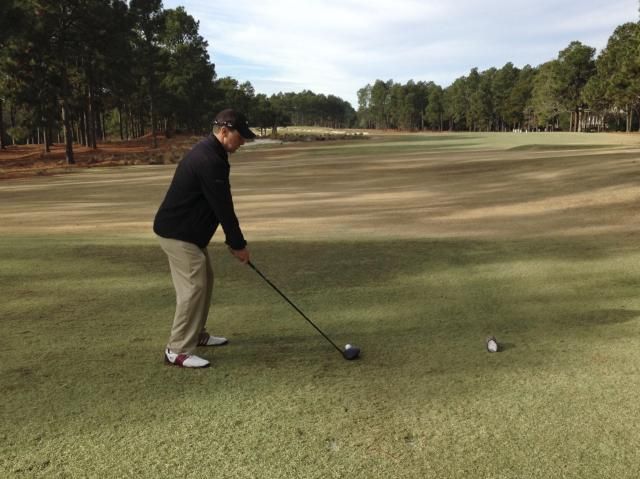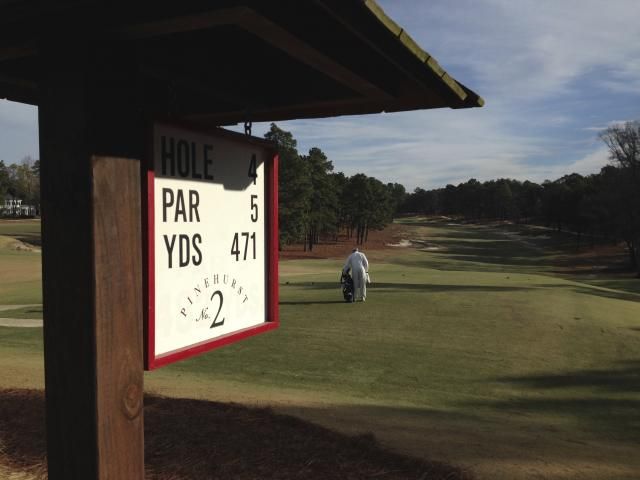 Hole 4 (which will be a long 4 for pros, while 5 will be a 5)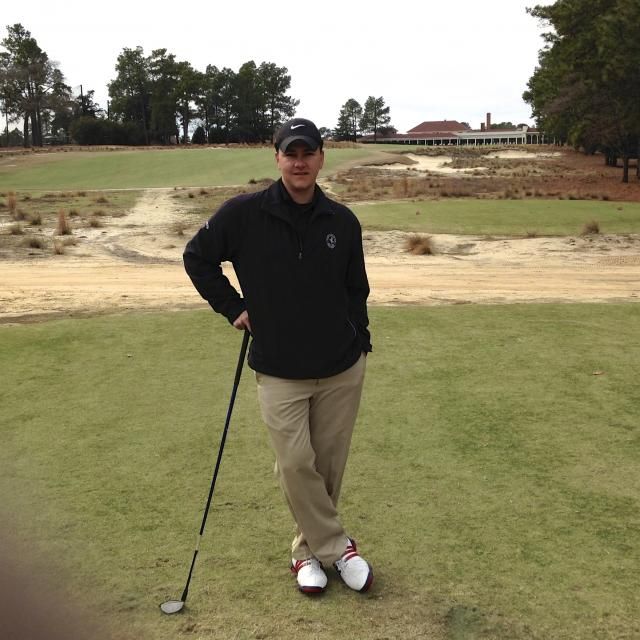 * * * * *
Thanks, Eric! I'm glad you got to golf another course on your golf bucket list! And any time golf comes with a side of spa day for me, I'm especially game!