Ah, all good things must come to an end, right? This is the post, that after many, many posts, will finally wrap up my recaps of our Midwestern Road Trip. I just want to briefly recap our trip home, then I'll do a little debriefing about our favorites/least favorites and such, and then I'd like to talk just a little about roadtripping with a toddler (and not just
any
toddler, but a sick, teething, just-learning-to-walk toddler).
First, the "going home" stuff:
We had a rough night our last night in Bloomington. Ellie once again woke up and couldn't get herself back to bed, so she ended up in the bed with me where she slowly but surely forced Eric out. He went downstairs to sleep on the couch, while Ellie actually slept in - something we were not expecting, considering we needed to hit the road relatively early. When she and I finally woke up we hurried downstairs to wake Eric, then got ourselves dressed, fed, loaded up and out the door in pretty good time.
I'm posting this horribly unflattering picture of myself because LOOK HOW CUTE MY BABY IS, all snuggled up against me.
We had to make the 2.5 hour drive back to St. Louis, where the whole trip began, to catch our return flight. Our rental car had to be back around 12:30 p.m., and we made it in plenty of time. We had a much more positive experience with the rental car company this time as the drop-off process was simple and fast, and one of their employees even offered to drive us back to the airport in the car rather than making us unload everything and drag it onto their shuttle. That was MUCH appreciated, although it saved us so much time, we had a lot more time to kill at the airport.
On our way back to the airport, I got my last "welcome to" sign picture! Welcome to Missouri...for the third time!
We had lunch at Chili's where the slow service really helped kill some of our extra time, and then let Ellie burn off as much energy as possible by being generally crazy in the airport.
Our flight was delayed by about a half hour, but was otherwise alright, including our brief stop in Birmingham. Unfortunately I was still pretty congested from my cold, so my ears hurt terribly on both descents and remained blocked for about a week afterwards. I had worried about congested Ellie's ears, too, but she didn't seem bothered - just sleepy. She even napped in my arms for a bit, to my great delight.
Sleeping baby feet on my lap!
Sleepy girls on the airplane
We arrived in Tampa all in one piece, as did our luggage, and my dad met us at the airport. Good to be home!
Now, let's do some debriefing.
This trip was awesome. It went so well, definitely about as well as I could have expected (if not better), even given some unexpected glitches: I forgot my phone at home (hardly a catastrophe, of course, but I think most millennials would agree it's an adjustment to be phone-less), we had really gross weather in Milwaukee, we gave up a day of sightseeing in Cleveland, we had some unexpected illness to deal with our second week. Even with all that, though, this trip was fabulous. We handled everything in stride and it was great fun.
My favorite city was definitely
Memphis
, as I found it charming and just liked the atmosphere. It was the location of several of my other favorites, too: my favorite meal was
Gus's Fried Chicken
, and my favorite activity was, of course, the
Peabody Ducks
.
Our stop in
Notre Dame
was much more of a highlight than I expected, and I think one of my most favorite pictures from the trip is the one of Ellie running out of the tunnel onto the football field. I mean, she had only been walking for less than a week, and there she was, taking the field at Notre Dame. She kills me.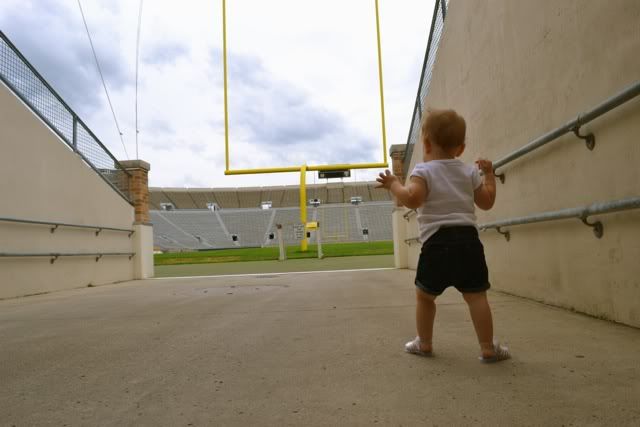 Another favorite picture of mine is Ellie in the carrier under the Gateway Arch.
Love her little eye peeking out
I also really liked St. Louis, and I'm glad we took the time to go up in the
Arch
. It was very cool.
Of course, we also very much enjoyed our time with family in both
Cleveland
and
Bloomington
, and Santiago's first birthday party was a blast!
Milwaukee was my least favorite city, although I think it would've had potential had anything in the Historic Third Ward been open. I think Eric would agree with my assessment of
Milwaukee
, although he loved golfing at
Whistling Straits
during our stay there, and Milwaukee did host our favorite of the baseball stadiums we saw. So, see? Even our least favorite city was still a blast!
Some things I wish we would have had more time for: checking out Beale Street (in Memphis) after dark, actually going in the National Civil Rights Museum (Memphis) and the National Underground Railroad Freedom Center (Cincinnati), more exploration of Cincinnati in general, checking out the Public Market in Milwaukee, and some actual exploration of Nashville. Ah, well - next time!
As for roadtripping with a toddler...
A beautiful sight: a happy baby in the car!
Before we went on this trip, I totally Googled for advice about just this sort of thing. (Honestly, how did people parent before Google?) So, I thought I would share a little about what worked for us on this trip; things we did to make the whole experience easier on both us and Ellie. Naturally, what worked for my kid may not work for yours. Heck, what worked for my kid last week may not work next week. You know your kid best, and can make the best guess about what they need, but at the end of the day, it's a gamble. If you're willing to make that gamble, let me at least tell you what we did that seemed to help (note: our baby was 14 months old at the time of this trip):
Hotel suites. We booked suites whenever we could (or "extended stay" hotels). This way, Ellie had her own space and so did we. That meant we weren't keeping her up during the night, and it meant we didn't have to sit quietly in the bathroom while she napped. We could each do our own thing and sleep peacefully. Not only that, but suites often have at least microwaves and mini-fridges, if not more complete kitchens - very handy for preparing "home-cooked" meals for the little one. And really, if you look hard enough, there are deals to be found for suites hotels. We were able to find all of ours for hardly more than a regular room would have cost us. It's definitely worth the time and effort to search for affordable suites!
Don't rush out in the morning. This may be specific to Ellie's nap schedule, but it really worked well for us to spend leisurely mornings at the hotel, eating breakfast and relaxing until naptime. Then, after she had napped, we hit the road. That way we knew she was rested and we weren't putting too much on her plate in one day.
Scale it back and be flexible. You never know how the little one is going to take everything. Prioritize your must-do's and hit them first, and then fit in whatever else you can. Be prepared to adjust as needed.
Bring the comforts of home, especially WHITE NOISE. One of our first stops was at Target to pick up a box fan to bring with us. When Ellie was sleeping in the hotels, we had both that bad boy and her Sleep Sheep going at full volume. Hotels are noisy, and if you're planning to sleep in the bedroom of the suite, the baby will probably be in the living area closest to the hallway. Drown that racket out! We also were prepared with blackout curtains to make sure Ellie had a quiet and dark sleeping environment, but we didn't need them because generally, hotel curtains rock. I also brought a couple of her favorite toys to put in her Pack 'N Play with her for added familiarity.
Also bring familiar food. While we were at Target we also picked up a ton of Ellie's favorites and prepared them in the kitchen in our hotel suite, then carted them around with us (steamed veggies, pasta, etc.). Bring a cooler and keep it stocked. We knew we would be eating out a lot but we weren't sure if Ellie would be able to find something she liked everywhere, plus we thought it might just be nice for her to have any extra consistency and familiarity we could offer her.
Baby transportation. While out and about, for us it generally worked best to wear Ellie in her carrier (we have a Beco Gemini and used the back carry). It was less hassle for going in and out of sightseeing places - no need to worry about stroller accessibility, etc. And, she was able to easily fall asleep in there (she's not one to sleep in the stroller). We did also bring a small umbrella stroller in case we wanted to switch things up but we really just found that wearing her was easiest for everyone, with the exception of our morning at the St. Louis Zoo and a couple of walks with family in Cleveland and Bloomington.
Equip your car. We made sure we had everything we would need for car travel, starting with this car seat travel bag that worked wonders. It has backpack straps so it's easy to get to and from the baggage check counter, and although the zipper was a bit snug on our car seat, there was enough room in the seat to fit other things, including our travel high chair which was so helpful to have along. We also brought sunshades for the car windows, a mirror, car seat straps, etc. For ourselves, we made sure to have a car charger for our iPhones, too.
Trip toys. Before we left, I hit up the Dollar Spot at Target and the Dollar Store for some little trinkets for Ellie to play with in the car: cheap books, necklaces, squishy toys, light-up toys, rattles, stickers, even a loofah. Basically, anything that I thought might hold her attention for a bit if she got antsy. On the longer stretches, I rode in the back with her and when needed, pulled a new toy out of my bag o' tricks to keep her occupied. It worked like a charm, and instead of buying one big "trip toy" as I had originally planned, for about $10 I was able to get enough little things that she had something new for every leg of the trip.
Stop often and for long stretches, if possible. We had a few legs of our trip where the total drive time was about seven hours. On those occasions, we made it a point to find an activity we could do at the midway point, such as taking the tour of the stadium at Notre Dame between Milwaukee and Cleveland. That gave us time to get out, stretch our legs, let Ellie burn off some energy and then start fresh again for the second half of the journey. It really broke things up nicely. We would also stop between those big stops as needed for gas and such, and would let Ellie walk around a bit there, but we tried to plan a halfway stop to last an hour or more. I think it really helped all of us stay sane. And, those stops ended up being fun additions to our trip!
Be prepared. I mean, obviously. But really, spend weeks ahead of time with a running list going of what you want to pack (I highly recommend the Wunderlist app if you have an iPhone - you can add people to your list so, for example, both you and your husband can add things to the same list as they come to you). If you think of something you may possibly need, bring it. For example, I made sure to bring teething supplies and Tylenol for Ellie, both of which ended up being much needed, and I was glad I was prepared.
So that's the basics of what helped us successfully complete a 17-day road trip with a 14-month-old who learned to walk, caught a cold and cut two teeth (and started on one molar) during our trip. Should you attempt something similar, I hope my tips help and may the Force be with you.
And that concludes my road trip talk. If you have really read all of these posts, I thank you. If you haven't, but would like to catch up on any, here are links to the collections of posts from each city:
Thanks for sharing this journey with us!