Since moving back to Florida, Eric and I have been excited about having the opportunity to get together with old friends, many of whom have babies now as well. Unfortunately, things have been far more hectic since our arrival than we anticipated, so we haven't seen nearly as much of our old friends by this point as we would have liked. But, slowly but surely, we're making these visits happen.
Most recently, I had a couple of get-togethers with my high school friends Fran and Cathy. Fran's daughter Hailey is about a year and a half old now, and Cathy has a five-year-old son and as well as a baby girl (Claire) who was born six days before Ellie. You may recall that we all got together when I visited Florida in July:
From our last visit in July: Fran and Hailey, Ellie and me, Cathy and Claire
Just as with Ellie's baby cousins, I was excited to see my friends and their babies again now that nearly six months have passed and the kids can interact a bit more.
Ellie and I went for a little play-date at Fran's house a few weeks ago. Ellie and Hailey got along great, although I think Ellie will love it even more when she can run around and keep up with Hailey. Hailey was great about sharing her toys though, and I know she and Ellie will be BFFs in no time.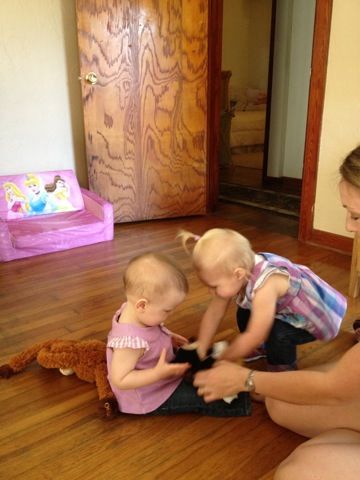 Here, Ellie, have this toy.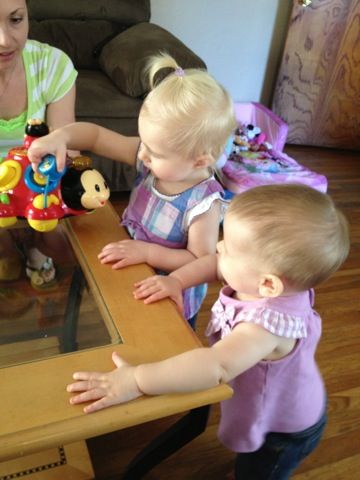 Then, this past weekend, Ellie, Eric and I met up with Cathy and her kiddos at a park for another little playdate. Cathy's son ran and played on the playground while the girls hung out on a blanket and played. (Well, for the most part. We did have to do a little chasing them around as they crawled all over the place.) Ellie and Claire got along great, and were just so cute playing together. I love that Cathy and I have babies so close in age, and soon we'll be celebrating their birthdays together!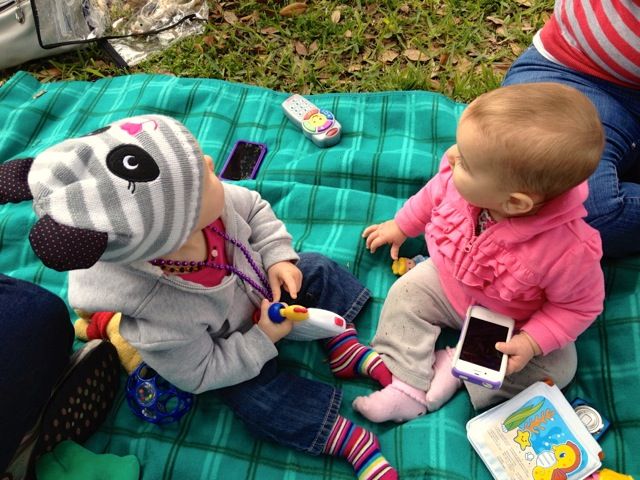 Ellie and Claire on the blanket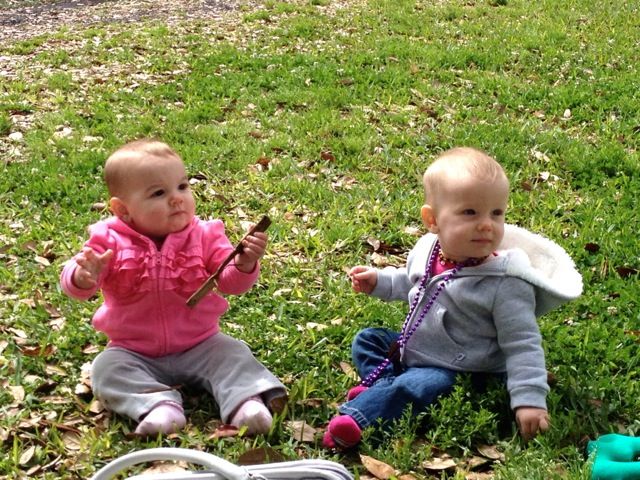 Unrelated to baby friends, after our playdate we hung out at the park for just a few minutes longer so Eric and Ellie could have some fun on the playground.
It is so nice to be back around old friends, both so we adults can catch up and so our kids can get to know each other! Hopefully we'll be able to make these get-togethers with our friends a more regular thing during our remaining months here!