A couple of weeks ago, my mom picked Ellie and me up and we all spent the afternoon at the beach. Considering that this is what my phone says the weather is currently like back in NYC:...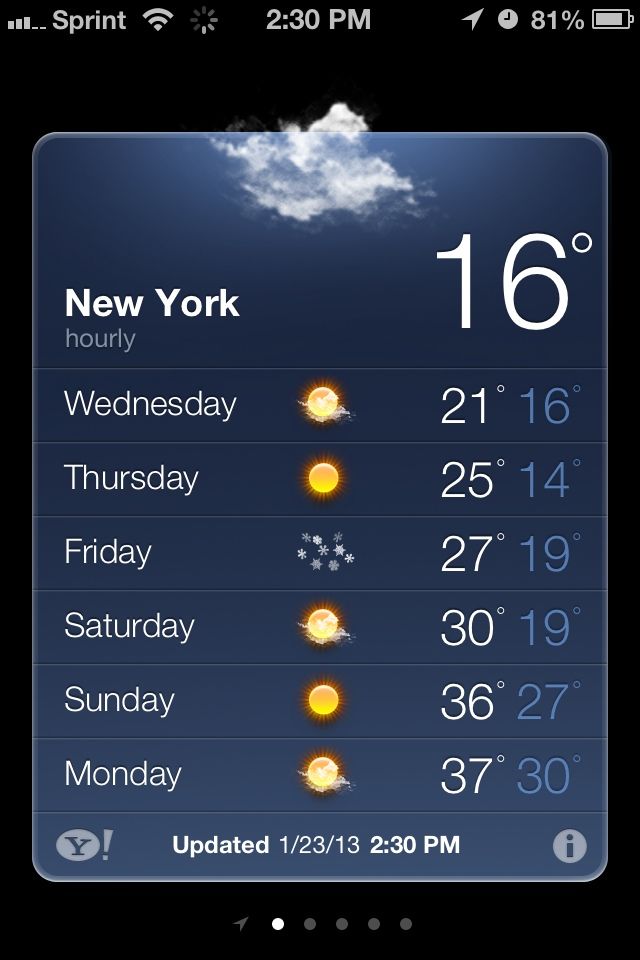 ...I would say the weather is one thing Florida really has going in its favor. Nobody is going to the beach in that mess pictured above. (Well, except the
Coney Island Polar Bear Club
crazies, but they're the exception.)
So we spent a Saturday in January at the beach. At the glorious, sunny, warm, sandy, delightfully breezy, gorgeous beach. My mom brought a new bathing suit for Ellie to wear, and with that ruffled bikini paired with her sun hat, she really looked the part of Florida girl.
Left: Working on her tan. (Not really, of course, don't worry - no babies were actually tanned in the making of that photo.)
Right: The ruffled butt just kills me. I am powerless against a ruffled baby butt.
Hanging out with Grammy under our umbrella
Ellie was much more participatory this time around than she was during
her first beach experience
, as was to be expected. She wanted to climb all over the chairs, crawl through the sand, and munch on some seashells. Needless to say, if she was in motion, we had to be on our toes to try to keep the sand consumption to a minimum.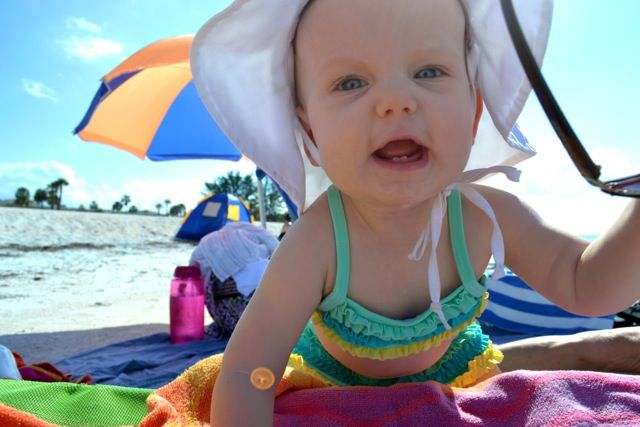 Happily climbing (and showing off her teeth) with Grammy's sunglasses in hand
A fistful of sand, headed straight for that big, open mouth. Yikes!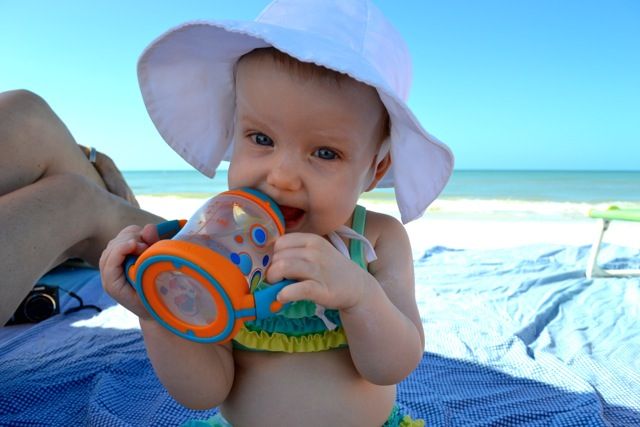 All that sand snacking makes a girl thirsty. Gotta stay hydrated!
The one thing she really didn't like was the chilly Gulf water, and the poor girl cried right away when her mean ol' mama stuck her toes in.
VIDEO: Poor Ellie feels the chilly Gulf water!
So, we spent our afternoon letting Ellie explore, strolling along the shore, having some lunch, and just relaxing. We were all having so much fun that we ended up staying quite a bit longer than we had planned! I think Ellie was destined to be a beach bum.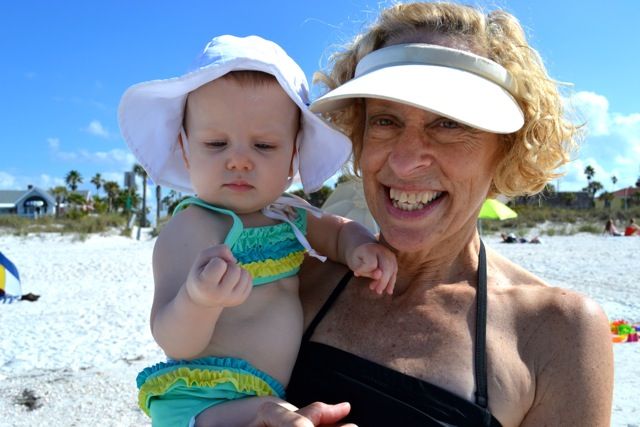 Ellie and Grammy walking on the beach
Sharing some laughs back on our blanket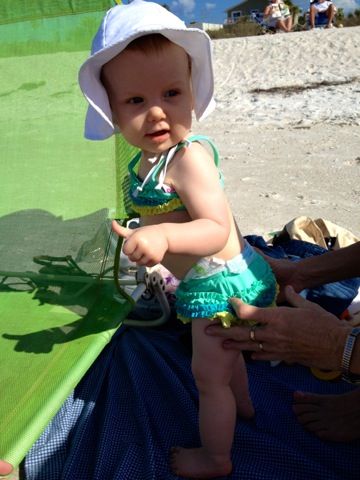 Of course, the poor sweetheart passed right out on the drive home. Beach-going is exhausting!
That is one tired beach bum.
I have to admit, I feel pretty disconnected from the rest of the world and even a bit disoriented thanks to this warm Florida weather. I see my friends back up north posting pictures of snow, and that is how I remember that it's winter. I keep assuming the kids are out of school on summer break. I forget that in most other places, it's cold, cold, cold right now. It's all very strange.
Not that I'm complaining, of course. I'll take a January beach day and you won't hear a peep of griping from me!