Well, we're back from a long weekend in Cleveland, where I attended my friend Megan's beautiful wedding and Ellie got to meet some new relatives, including her great-grandfather. We rented a car and drove there, so Ellie experienced her first road trip, and I'm pleased to say that we all came out of it relatively unscathed.
I have lots of pictures to share with you from the weekend, but while I'm making some edits and getting my thoughts together for a recap, I thought I would just share one of my favorite series of photos from the weekend: Ellie sitting in the grass for the first time, in my grandfather's backyard. She wasn't sure about it at first, but then she decided she was not offended. That grass was a-okay by her.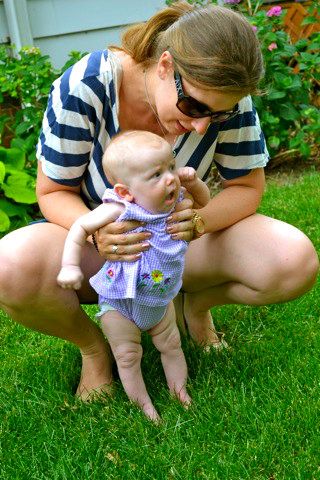 "Um. What is this?!"
"Hey Dad, are you seeing this stuff? It's not so bad."
She has made her peace with the grass.
She even spent some time laying back and relaxing.
Stretch! (And frog legs.)
Oh, my sweet baby girl! I just love her to bits.
Stay tuned for more pictures and recaps from our trip coming up later this week!