Although I have pretty much stayed west of the Hudson River since giving birth (with only two exceptions), Eric still goes into the city every day for work, which enables him to keep up our celebrity-sighting pace. Without even really straying from his normal workday path and routine, Eric has been able to spot a number of celebs in the last month or so.
First, on his walk to work one day, he happened to catch a few at the E! Upfronts (preview of upcoming shows to entice advertisers to buy commercial time) at the Haier Building, including Bill and Guiliana Rancic, Joan and Melissa Rivers and Kelly Osbourne. He also caught Mario Lopez filming
Extra
on the street one day.
Kelly Osbourne, Melissa and Joan Rivers
Eric also stumbled upon the NBC Upfronts at Radio City. There he saw Matthew Perry, Blake Shelton, Howie Mandel, Nick Cannon, NeNe Leakes, Donald Trump, Dax Shepard and Peter Krause (from Parenthood).
That hair is hard to miss.
If television stars aren't really your thing, Eric also caught a couple of athletes at the SportsNation Madden NFL '13 Cover Reveal in Times Square: Calvin Johnson and Cam Newton.
Calvin Johnson and Cam Newton
If you prefer movie stars, Eric also stumbled upon Kristen Wiig and Ben Stiller filming The Secret Life of Walter Bitty, right in front of his office building.
All of these celebrity encounters occurred just by chance, which is the very cool thing about NYC. However, there was one event that Eric stopped by intentionally, although he only had to walk about a half block from his office to do so: the Men in Black 3 Premiere at the Ziegfeld Theater, where he saw Will Smith and his kids Willow and Jaden, Tommy Lee Jones, Josh Brolin, Nicole Scherzinger (who didn't even turn around to wave at the fans - rude!), Alice Eve, Pitbull, Donald Trump (he's everywhere!), Kristen Schaal and One Direction.
Will Smith and Tommy Lee Jones
Josh Brolin and Alice Eve
The MIB3 Premiere after party was held at the USS Intrepid, complete with fireworks that we were just barely able to see from Hoboken: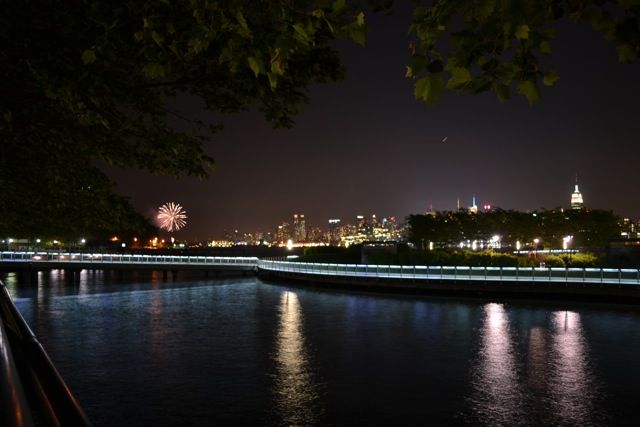 Fireworks in the distance
Now one of these days, we just have to get Ellie out to a red carpet for her first celebrity sighting experience! Ha!