First of all, I want to thank you for your kind and supportive comments after last week's whiny post. You all had such sweet and encouraging things to say, and it really made me feel a little less like a big ol' baby. And then Friday I had a good day and felt so much better, so I was even a little embarrassed about my blog pity party. But then Saturday night got bad again and I was back to being very woe-is-me. That's just how things are going to be now, I guess. But really, all your kind words really meant a lot to me and made me feel better! Thank you!
And really, last week wasn't all bad. In between bouts of feeling lousy, Eric and I did manage to have some fun.
Last Monday, Eric enjoyed a fun evening at the Apple Store in SoHo to see Ed Helms and Jason Segel talk about their new movie,
Jeff, Who Lives at Home
. He got a great seat right up by the stage. They discussed the movie as well as movie-making in general, including preparing for roles, Jason Segel passing on the next Muppets movie, and writing vs. acting (they said both can be fun, but Jason Segel actually started writing because he wasn't being cast as an actor!).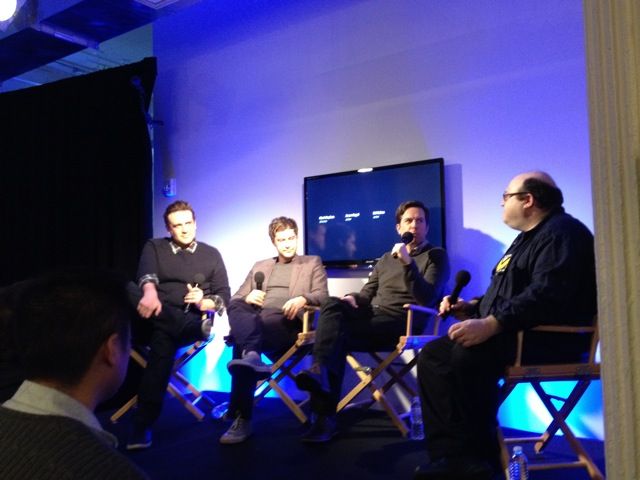 Jason Segel is on the far left, and Ed Helms second from the right
Jason Segel outside after the talk
On Tuesday, we had another meeting with our doula, which went very well once again.
On Wednesday we went for a nice little walk to check out something new this year in Hoboken: the Hoboken Irish Cultural Festival. I don't think I've mentioned it on here yet, but this year the mayor cancelled the Hoboken St. Patrick's Day Parade, which has been a tradition for years, because things were just getting a little too rambunctious. (You may remember our experience with the parade
last year
, after we just moved here.) This caused quite an uproar and led to the creation of Lepre-Con through social media, which brought thousands of people to our fine bars in their very best leprechaun apparel on the first Saturday of March, when the parade has traditionally been held. From what I hear it was quite a success.
Lepre-Con was the disgruntled bar-goers response to the cancellation of the parade, but the city of Hoboken also did something itself: created the Irish Cultural Festival to be held on Wednesday, March 14 at Frank Sinatra Park, right by our apartment. When Eric got home from work on Wednesday, we took the dog and went to check it out. It was pretty small, but there was good live Irish music, beers (none for me, of course), and stands with fish and chips and Irish paraphernalia. Apparently there had been other entertainment like Irish dancers and such earlier in the evening, as well. It was a beautiful night to be outside so Eric and I enjoyed our little walk around the park to the tune of live music!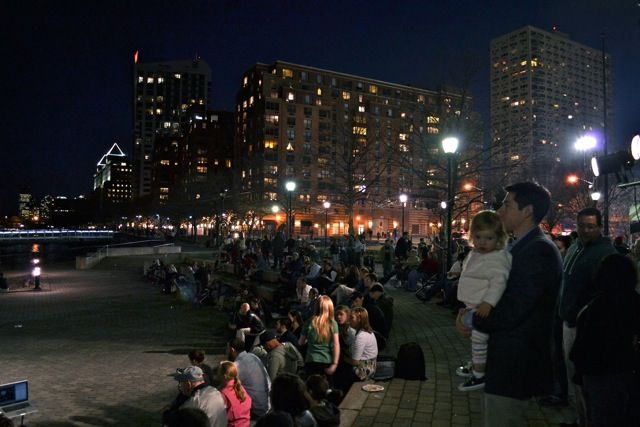 Crowds gathered to listen to the music at Frank Sinatra Park
Live music, with lower Manhattan in the background
On Thursday, Eric managed to catch Joel McHale at the NBC Store in Rockefeller Center while he was out on his lunch break.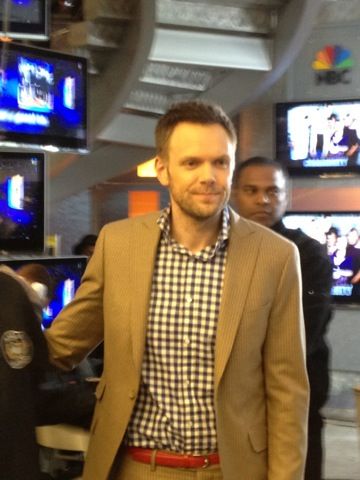 Friday was my last day at work, and my coworkers took me out for a nice lunch before I bid everyone farewell. I really have been working with some very nice people so it was a little sad to say goodbye, but I must admit that my tired pregnant self is pretty stoked to be sitting on my couch instead of at my desk today!
Our weekend was pretty quiet. As I mentioned, on Saturday we took the dog to get his shots updated so we can hopefully board him while we're at the hospital whenever Baby Girl decides to come. We spent the rest of Saturday watching basketball and eating delicious beef stew. Sunday we had our final prenatal meeting with our doula, which means the next time I see her should be when I'm in labor! Now that's exciting stuff.
As for this week, the weather is
beautiful
(low 70s and sunny) so I plan to get out and walk some each day, as well as getting some things done around the apartment. Other than that, it's just a waiting game! I'm so excited to meet Baby Girl, so I'll have to come up with lots of things to do to keep me occupied so I don't get too anxious waiting for her!
Have a great week, everyone!