Last night Eric and I enjoyed another weeknight date night for a Broadway show, and it was delightful. As the days and weeks pass on by, we're becoming more and more aware of the fact that these kinds of nights are numbered as Baby Time draws closer. So, we continue to be glad for the opportunity to take advantage of these sorts of outings until then.
A while back, Eric and I were roaming around town when we saw the marquis of a "new" show preparing to open on Broadway:
Jesus Christ Superstar
. I flipped out, as this is one of my favorites. When I was growing up, we watched the 70's movie version over and over and over again. My sister could seriously sit you down and sing the whole thing from top to bottom if you wanted her to. We loved it.
So when I saw it was coming back to Broadway, I crossed all my fingers and toes that it would open before Baby Time. Sure enough, preview performances began in early March! Eric was great at the whole "buying tickets to shows" thing, as per usual, and got right on it. I was so excited.
The show was scheduled for 7:00 last night, which made me happy because I figured that meant less time to kill between work and show time, and an earlier arrival back at home afterwards. Eric and I met up shortly after 6:00 and roamed around the neighborhood for a bit (yes, I still miss living over there), then we made our way to the theater...only to find out they had changed the show time to 8:00. I was pretty frustrated, because I could have killed more time at work, or Eric and I could have had a nice dinner out, or whatever. Plus, the show has both a Facebook and Twitter account and I follow both, but there was never any mention of a changed show time there, which would have been an ideal way to get the word out. But whatever. So, we killed another hour. Finally, it was time.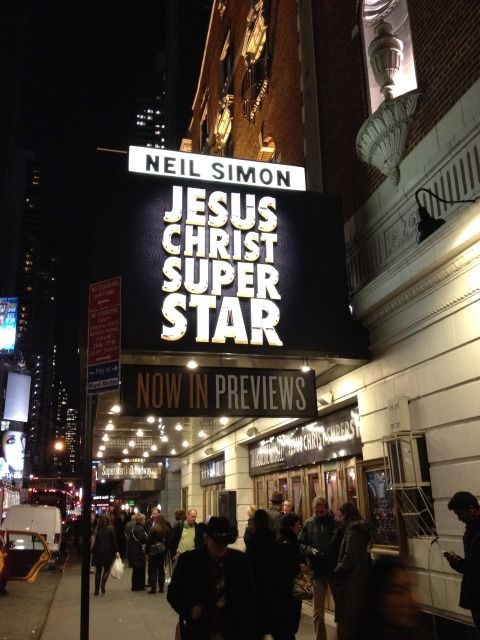 Jesus Christ Superstar at the Neil Simon Theater
Eric got us perfect seats to the show. We were in the orchestra level, right on an aisle (good for a pregnant lady's bathroom-related peace of mind), and we had a great view.
The show itself was excellent. I thought they did a great job with the lighting and some of the effects, and of course the performers were wonderful. I thought Paul Nolan (Jesus) and Josh Young (Judas) were both fantastic, and I also especially liked Lee Siegel (Simon Zealotes). Tom Hewitt also did a great job as Pontius Pilate. Overall, really great. And, as I mentioned, I loved some of the electronic effects, particularly during the "lashings" and at the very end of the show - I thought it was very artfully done. Also, Eric and I both commented on how easy it was to understand the lyrics, which can sometimes be a challenge in live theater. At first I thought it probably just seemed that way to me because, well, I know all the lyrics, but Eric brought it up as well and he is not nearly as familiar with the words as I am. So, kudos to the performers and sound people!
And so, we add another Broadway show to the list (this was my 25th one!). I would definitely recommend this one, too!