I just wanted to mention that by combining Curacao and our sea day into one post yesterday, I got myself on track so that my posts now coincide with where Heather is every day! So, as I am recapping our day in Trinidad today, Heather is back there again right now. Don't believe me? Check out the
Bridge Cam
from the ship to see for yourself. She's in Port of Spain today, and will be back in Barbados tomorrow. I think it's kind of cool that as I relive these awesome days, Heather is getting to experience them all over again at the same time!
Okay, let's get on with it...
This day kicked off our run of seven islands in a row, with no sea days to interrupt the fun. Bring it on! We had our second shore excursion booked for Trinidad, so we were up early to get breakfast from the buffet and meet up with our tour: the Maracas Waterfall Hike.
We boarded a bus with a good number of other people and started the 45-minute drive to the hiking trail. Our guide, Ivan, was very informative and told us lots about Trinidad as we went. He told us that Trinidad & Tobago became an independent nation from England in 1962, but before that was owned by many different countries and is now very diverse. Unlike many islands in the Caribbean, tourism is only their #3 source of income, after natural gas and manufacturing. The island was much more industrialized-looking that any we had seen, although Ivan told us that Tobago is more touristy with sandy beaches and resorts. He also told us that Trinidad grows coffee beans (we saw some) and a very fine brand of chocolate (we were able to see the cocoa pods on the trees). They also have a very large brewery. It was all very interesting - I liked being able to hear some about the history and culture of the island. My one complaint with cruise travel is that you really don't have time to get to experience the island as a whole, or learn about what it's all about - it's just a quick sample of each place. It's great to see so many places in a short time, but I do really like exploring and getting to know the place we're visiting, and there just isn't time for that in this type of travel. But, I still loved my trip, don't get me wrong! Now I just want to go back to every place to spend more time and learn more!
Partway through our drive we stopped off at St. Joseph Church in (obviously) St. Joseph, which Ivan told us was the original capital of Trinidad. We stopped there to meet up with another guide, use the restrooms and get some bottled water. I took a little time to wander through the church and cemetery. I love exploring churches. This one was so different than the elaborate cathedrals we visited in Scotland, but it was so pretty. After a few minutes, though, it was back on the buses for the rest of the trip to the hiking trail.
We arrived at the bottom of a hill and were told that buses could no longer go all the way up to the car park, so we would have to walk a little further. No problem - we were there to hike, after all. Heather and I were assuming the hike would be fairly easy, considering the...uh...advanced age range of our fellow hikers. But, the hike up to the waterfall lasted about 45 minutes and was a little more treacherous than we expected. There were a couple places where the guides had to help us cross something or climb up because it was a little rough, but everybody made it. The path was very beautiful, and the guides were great about pointing out interesting things and explaining things to us. It was very educational.
Eventually we made it to the falls, which were gorgeous. It wasn't this huge waterfall like I was expecting, but rather was a large clearing with water falling more lightly. It was really beautiful. I was a little disappointed that there was no lake to swim in (the shore excursion brochure had said there would be, and I was hoping to cross off another
list
item here), but Ivan told us that their rainy season had been very dry so that could explain that. But still, it was so peaceful and relaxing there.
We were able to spend some time at the falls to take pictures and enjoy. A few people stripped down into their swimsuits and went in under the falls, but Heather and I just walked close to them, making our way across very slippery rocks. At this point a lot of our fellow tourists realized Heather was in the shows on the ship and she became a celebrity! Everyone wanted to help her across the rocks and take her picture. Funny.
Another quick tidbit I found interesting - in the picture below, on the right, there is a young boy and his dog. They hiked along with us, and the boy was barefoot the whole way! Impressive. Some of our fellow tourists also told us he was rubbing a cocoa pod on the rocks, then on his hair. When they asked him why he was doing that, he told them it made his hair smell good and be curly.
After our time at the falls we made our way back to the buses. The hike was, of course, somewhat easier downhill, but still a little treacherous. I guess I'm just not a seasoned hiker. I kept worrying that I was missing out on all the gorgeous scenery because I was too busy watching my step, but I did stop from time to time to look up and take it in.
The buses took us back to the port, where Heather and I did my souvenir shopping for postcards and a magnet. I filled out my postcard for Eric there and mailed it, then we got back on the ship for lunch and some pictures of Trinidad from the upper decks. Then, back to Heather's cabin for a little rest. We were exhausted after our hike in the heat! I swear, I had forgotten what it feels like to be hot. It's delightful but tiring.
By sail away time we were feeling refreshed, so after briefly being locked in Heather's area by the watertight doors, we went up to a nice spot on Deck 15 to watch just as the ship was starting to depart. The sun was getting low and it was very beautiful.
After sail away, we went back to Heather's cabin to get ready for the evening. Heather had another night off, so we were planning to take advantage of some of the other shows on the ship. At 7:45p.m. we went to another show by the pianist Kyle Esplin, then went for dinner at the buffet. At 10:00 we did something I had really been looking forward to (and surprisingly, Heather had never done it before): we went to the Movie Under the Stars by the outdoor pool! It sounded so fun to me. They show movies on this big screen over the pool: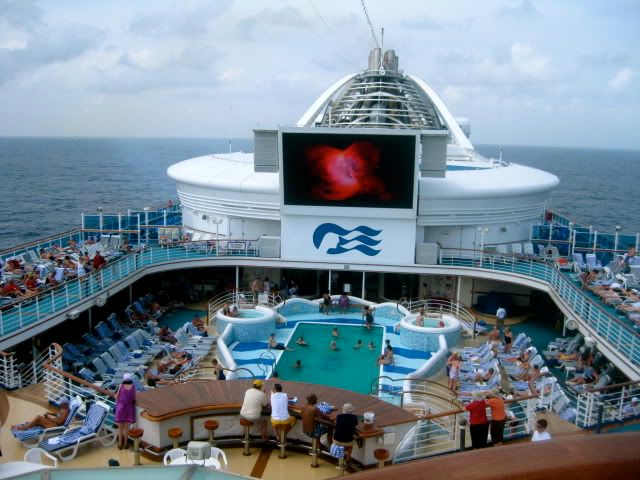 The put covers over the lounge chairs and put blankets out, plus they walk around and pass out popcorn. How fun is that?! That night, they were showing
Julie & Julia
, which I had been wanting to see anyway. So, Heather and I packed up a bag with a bottle of wine and some queso dip and found a couple of chairs on Deck 15 for the movie. We drank wine and snacked on popcorn and queso, and enoyed the movie. And, it really was under the stars! Stars are another thing we don't see much of in NYC, but I was even able to spot Orion as we watched the movie. What a great time!
I wanted to show you one more picture from our Movie Under the Stars night, which I have cropped into an extreme close-up. This is probably the best picture we have of my crazy dilated eye. Mind you, this was 24 hours after I first discovered it, and it is still kind of hard to really get the full idea of what was happening from this picture, but it's the best proof I've got:
Do you see it? BLAH. Crazy eye.
Anyway, after the movie, it was time for bed once again - we had another busy day ahead of us!
Up next:
Lots of island fun in Barbados!
My broken record reminder: there's lots more pictures of Trinidad (all the waterfall pictures you can handle!) on the
photo share site
!