Day #14: Thursday, February 25
At Sea
Well, our port days were over, and we were on our way back to Ft. Lauderdale. Our last day at sea was pretty quiet and uneventful, especially in comparison to the previous seven days of non-stop island fun.
We slept in that morning until about 11:00, then got up for our last buffet breakfast (waah!). The weather had already turned quite a bit and it was very cold and excessively windy, so we ate inside rather than at our usual spot outside by the back pool. After breakfast we wandered around the ship to take some pictures with Eric- and Molly-on-a-Stick that we had been meaning to take, then spent some time in one of the hot tubs. After the hot tub, we got some ice cream.
Our plan had been to lay out in the sun, but it was just too cold and windy. So, we went back to Heather's cabin to come up with a new plan. We ended up just lounging around a bit, but the boat was really rocking so I started to get pretty seasick, and we ended up just laying around all afternoon as a result. Heather took great care of me - she gave me Dramamine, a green apple (which I guess is supposed to help?), and her seasick bracelets. She also went up to get lunch from us from the grill and brought it back to the cabin. Eventually I was able to eat it slowly but surely, and after some time I started to feel a bit better.
We had planned to go to the 6:45p.m. finale show by vocal impressionist Tony Cherry and comedian Carl Strong, but by the time I felt better it was too late. So, we just got ready and went up to the Vista Lounge to check out the Wii@Sea - they had a large screen set up on the stage and people were playing Wii bowling! We didn't participate, but I did take a picture for Eric.
After that we picked up the portraits we had ordered from the photo department, then went back to the cabin to grab a glass of wine. We then went to the dining room for our last dinner.
Dinner was fabulous. We both started with shrimp cocktail, then for appetizers, I had poached seafood with lime-cilantro vinaigrette and avocado, and Heather had watermelon and feta cheese topped with toasted pumpkin seeds. We both also had a grilled vegetable salad.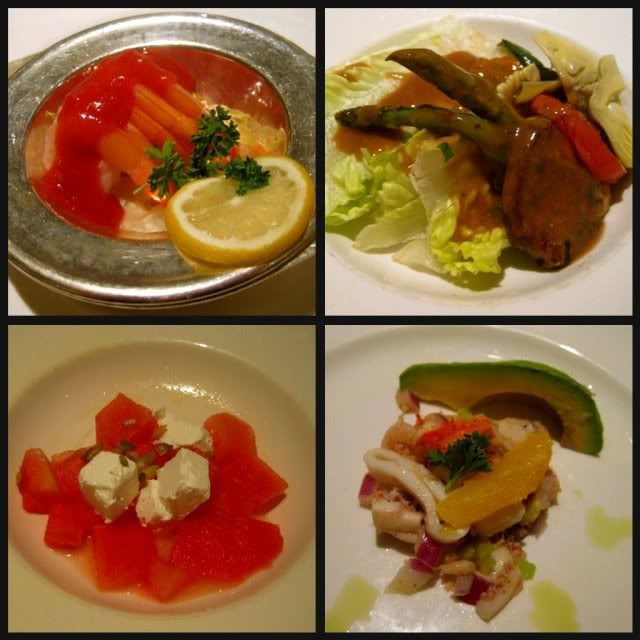 Our appetizers: shrimp cocktail, grilled vegetable salad, Heather's watermelon and feta, and my poached seafood mix

For the main course I had clam linguine in cream sauce and Heather had some to-die-for mussels in some sort of white sauce.
We finished it all off with THREE (yes, three!) desserts to share: New York Cheesecake, Sweet Mud Pie and Baked Alaska. During dinner, the waitstaff did a parade of Baked Alaska, and marched through the dining room each carrying one. It was very unexpected and entertaining, and inspired our dessert choice! All in all, it was a lovely dinner and a nice way to end the trip.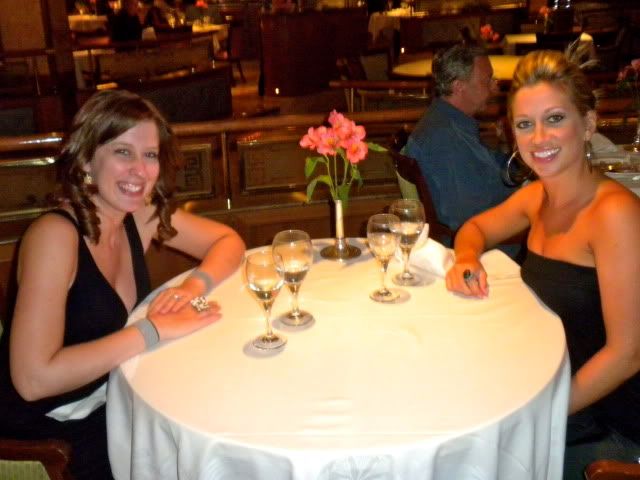 Us at dinner (I'm still sporting the oh-so-stylish seasick bracelets, as you may notice. Better safe than sorry!)

After dinner we stopped to pick up some popcorn from the Movies Under the Stars area (because we totally hadn't just eaten tons of food), then went back to Heather's room to watch the movie, "Love Happens." It was just too cold to actually watch it under the stars, and they show it simultaneously on the cabin televisions so we thought that was the way to go. We drank some wine and watched part of it, then Leisel and Ryan came down to the cabin to say good-bye to me, so we talked to them for a bit. When they left we finished the movie, drank some more wine, and I packed. I packed up all my clothes and all my souvenirs and was a very sad person. Then, it was time for bed. The cruise was over!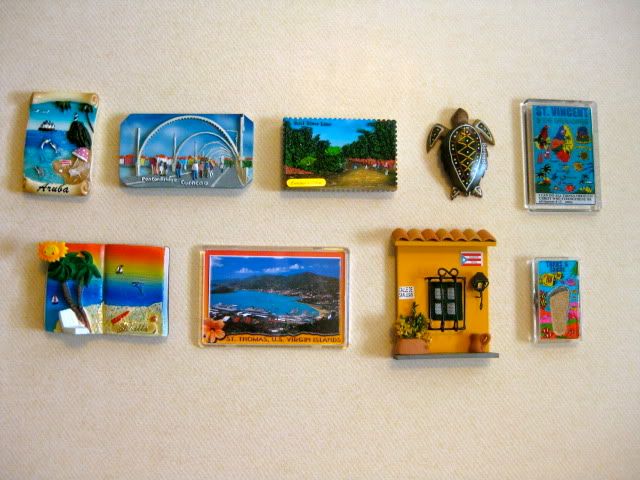 My souvenir magnets, hanging on Heather's wall (her walls are magnetic!) - I was sad to take them down and pack them up!
In case you're curious, they're in port order - top row: Aruba, Curacao, Trinidad, Barbados, St. Vincent; bottom row - St. Kitts, St. Thomas, San Juan (my favorite), and Grand Turk

Day #15: Friday, February 26
Back in Ft. Lauderdale
On the last morning we had our alarm set for 8:30, but we woke up off and on fairly early due to noise from them unloading passenger luggage near Heather's cabin. As we got ready to disembark, Heather learned that Rick was coming to surprise her for the day and I learned that my flight back to NYC had been cancelled because of a snowstorm. Awesome. We had planned to leave the ship at 10:00, but we got a call at about 9:30 that told us to basically get off the ship NOW, so we left in a bit of a rush.
We went through customs with no trouble, and my mom soon arrived to pick us up. In light of my flight cancellation, I was even more glad she had decided to drive down for the day, because my plan was to get my Ft. Lauderdale flight rebooked out of Tampa instead, so I could just go back with her rather than having to stay the night by myself in Ft. Lauderdale.
Mom first took us to CVS to drop off our underwater cameras (we were dying to see our scuba/snorkel/horseback riding pictures!), then we went to Denny's for breakfast and Rick met us there. We spent some time there then picked up our pictures, then all piled into Rick's car to go to Target for some shopping.
During all this I spent over an hour and 20 minutes on hold with JetBlue, trying to take care of my flight. I did eventually get myself rebooked on a flight out of Tampa the next morning. Whew.
After Target we went to the beach for a bit and ate cupcakes my mom had brought, then it was time to say our good-byes. Rick took Heather back to the ship so she could start the whole cruise all over again (lucky!).
Mom and I started our journey back to her house in Weeki Wachee. We stopped for dinner at Applebee's when we started to hit bad traffic around 6:00, then made the rest of the drive without any problems. We made it to her house around 10:00, where we had some wine and I showed her all the pictures and videos from the trip. That took until 1:00 a.m.! Then it was bedtime, since we were leaving at 7:15 the next morning for the airport.
And, you know the rest! My flight the next day went smoothly, and Eric was waiting for me at the airport when I got in. Home sweet home.
Up next:
All the recaps are finished, but I feel the need for a little debriefing session, a little reflection, a little more thinking back, and a little bit more of a finishing touch. So, stay tuned for that - then I'll finally stop rambling about the cruise. Thanks for sticking with me!