After our day at Sea World, we spent the night in a hotel in Orlando, then hit the road again the next morning, en route to Kennedy Space Center. Ellie has been
super
into outer space lately, and loves to tell us that she's going to be an astronaut when she grows up. So, we figured we should take advantage of Eric's free teacher admission and take Ellie to Kennedy Space Center!
The kids were so excited, and dressed the part to boot.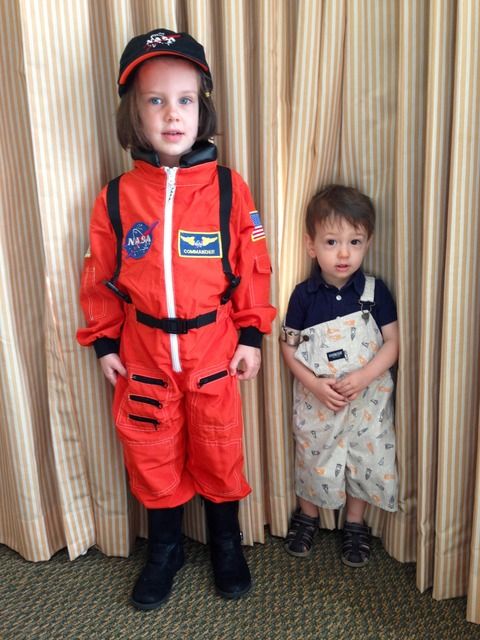 Our little astronaut in her flight suit, and her little brother in his rocketship overalls!
When we first arrived, we got our tickets then took some pictures out front, including with the big rocket launch countdown clock.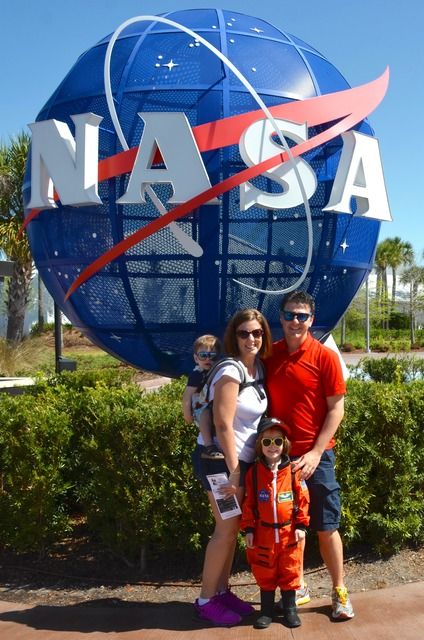 We're ready for a day of space fun!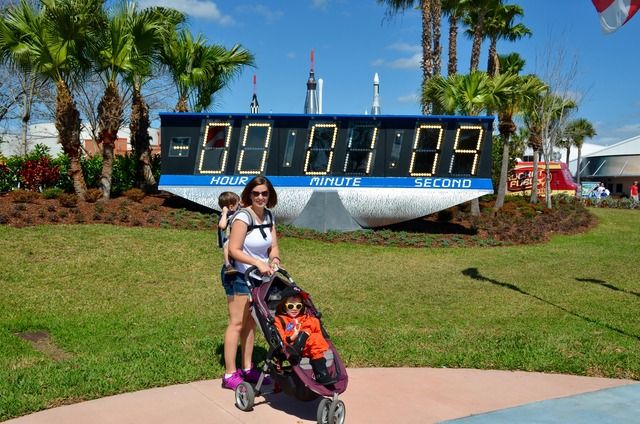 Once we were inside, we spent some time perusing the Rocket Garden. The kids especially loved the ones they could go in themselves! In particular, you could walk along the service arm that Neil Armstrong and Buzz Aldrin walked across to get to Apollo 11. Fancy! (We must have walked through that thing a billion times by the time we left at the end of the day.)
Ellie got a ton of compliments on her outfit as we were walking around! She looked so awesome.
Next, we went into the Atlantis exhibit. You go into a big room and watch a movie about how it was developed (at the end of which, E.J. yelled "YAY!" and got a pretty good chuckle out of the crowd), then you go into another room with a video of a shuttle launch. After that, the back wall becomes transparent and you see the giant Atlantis shuttle suspended in front of you. Very cool! We went right in to explore.
We spent a ton of time in there. They had lots to look at, and a ton of interactive stuff. Ellie got to "work the controls" of the shuttle, and she and Eric tried their hands at repairing a ship via simulator. There was model space station to crawl through (Ellie
loved
this thing), and all sorts of other fun stuff. Eric also did a launch simulator ride while I hung out with the too-short-to-ride kiddos.
When we finished in the Atlantis exhibit we decided to grab some lunch. Eric ordered food while I let the kids run around the rocket garden some more.
After lunch we went to hear a real astronaut talk! Astronaut Don Thomas (of Cleveland, Ohio!) gave a great talk about becoming an astronaut and what it's like to be in space, and shared some stories and personal photographs of his space days. It was really cool! E.J. ran around the back of the auditorium like a crazy person the whole time, but Ellie listened pretty well. When the Q&A portion of the program came, Ellie raised her hand to ask a question! I thought she might ask "When can
I
go into outer space?" because we had talked about that previously, but when I asked her what she was going to say she said, "BOO BOO BUTT!!!!!" (That's a line from
The Book With No Pictures
by B.J. Novak, which Ellie got for her birthday and was OBSESSED with and now both my kids say "boo boo butt" on the regular.) Of course, the guy with the microphone came over to her right at that moment and I was frantically signaling him to keep on going, no questions here! But he quietly asked Ellie what she wanted to ask and she said, "I like people," because obviously. So he just chuckled and said she can take a picture with the astronaut soon and moved on, thank heavens. We escaped the astronaut talk without calling him a boo boo butt in front of an auditorium full of people.
Of course, when the talk was over, they did allow everyone to meet the astronaut and take a photo, When we had our turn, Astronaut Thomas complimented Ellie's flight suit and she responded by calling him a "blueberry pizza head" (another phrase from that book), so. Lesser of two evils, I guess?
After calling a real life astronaut ridiculous names we decided to blow off some steam by playing in the kids' playspace that Ellie had been asking about all day. E.J. was a bit too small, so I ran around the rocket garden with him, but Ellie had a blast in the play area.
Our last major attractions to see were very exciting for the kids: we got "space ice cream" (Dippin' Dots, which they both LOVED) and hit the gift shop, where Ellie got a bracelet with her name on it and E.J. got a toy space shuttle.
And with that, we decided to call it a day and head back to Jacksonville. Needless to say, both kids passed out
immediately
in the car!