My mom came up to visit us this past weekend, for largely functional reasons: she was going to be on Ellie duty while Eric and I knocked out a couple of big (not Ellie-friendly) items on our Baby Prep To-Do List. The result was a very productive weekend mixed with a very nice visit: a win-win for everyone!
My mom arrived Friday morning just in time to join Ellie and me at storytime, where we made a pirate flag, read some Thomas the Train books and played at the playground.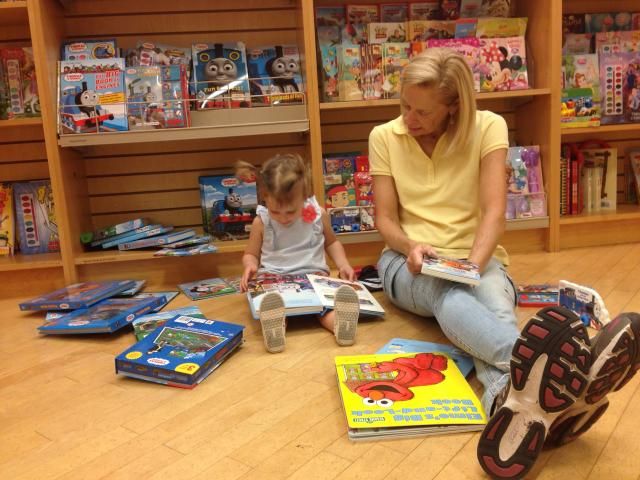 Ellie is on a HUGE Thomas kick right now.
That afternoon, after getting Ellie down for her nap, Eric and I left my mom in charge and took off for Orlando. Our destination: Ikea, to purchase the dresser we've had our eye on for Plus One's nursery. This was our first time ever in an Ikea, and I was pretty pumped because, you know, hype. It took us two hours to get to the Orlando Ikea and then we spent a good amount of time meandering through the showroom (with a break for some meatballs in the cafe) before finally retrieving our dresser. We made it out with almost no additional impulse purchases (from what I hear, this is quite an accomplishment), with the exception of a small table and chairs set for Ellie.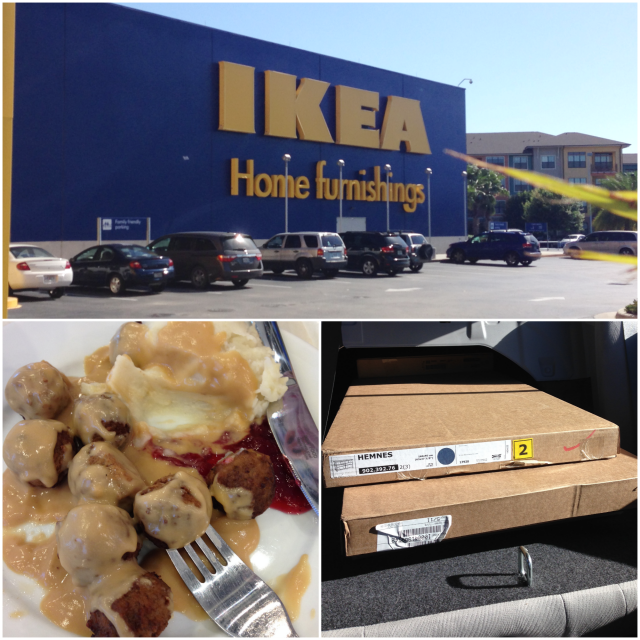 Our first Ikea trip was a smashing success!
By the time we finished at Ikea we were right in the throes of rush hour, so instead of trying to fight traffic to head right back to Jacksonville, we killed some time (and some cash) at the Orlando outlets. We finally made it back to Jacksonville around 9:30-10:00 that night.
Saturday was equally productive. Eric had his last TFA meeting day of the year (say what? One year of teaching is almost done already?), so my mom accompanied me to Ellie's Saturday morning swim lesson at the YMCA. I'll share more about her swim lessons later, but we had a great time in the pool with her and she did great!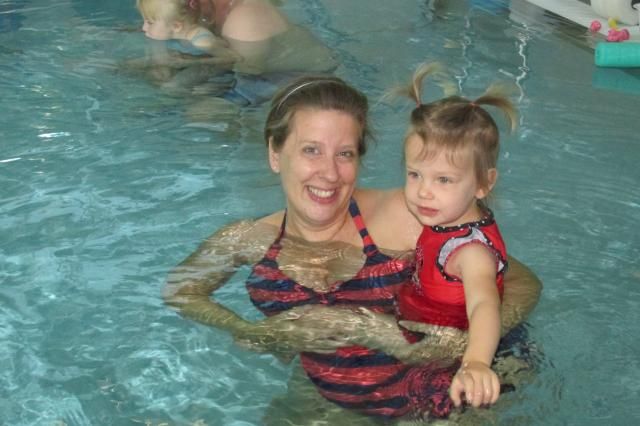 When Eric got done with his TFA thing that afternoon, we once again left my mom in charge so we could go take a tour of the maternity suites at our hospital. The hospital seems pretty nice and we were able to get pre-registered on the spot, so that was also quite productive.
When we got back home, Ellie, my mom and I went to Home Depot to get some pots and soil for some plants I have that were in desperate need of new homes. We also stopped at Michael's for some craft supplies, then went home and Ellie and Grammy got to work on the plants.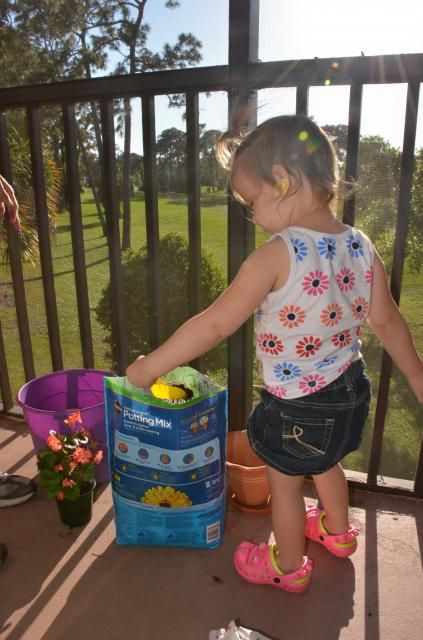 Gardener Ellie, hard at work!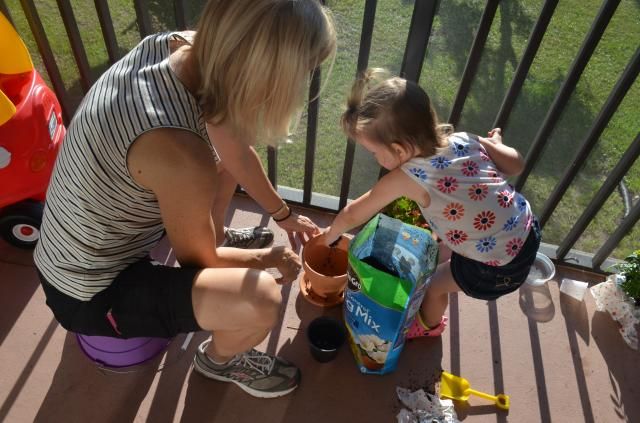 Ellie and Grammy re-potting the plants
After Ellie was in bed that evening, my mom and I got started on a craft project for the nursery: drawer pulls for the dresser painted like baseballs. We got the white base coat done that night, and I finished up with the red laces the next day. So, I give you a little nursery teaser: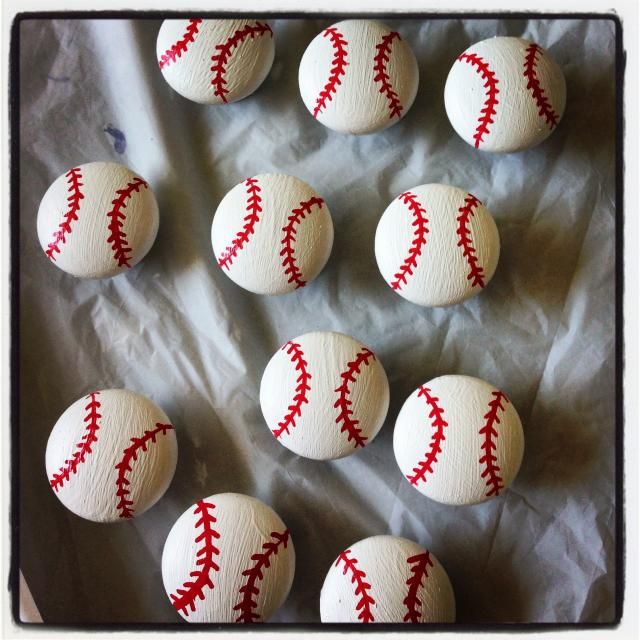 Yeah buddy, I painted those laces. And I totally just impressed myself.
On Sunday, Eric went golfing while the ladies hit the zoo. Ellie was as excited about the animals as ever, with the rhinos still being her favorite. We had a lot of fun showing my mom around our zoo!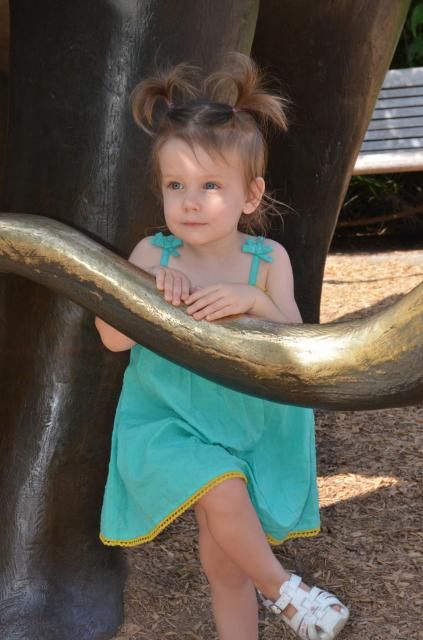 Being generally sweet by the elephant statues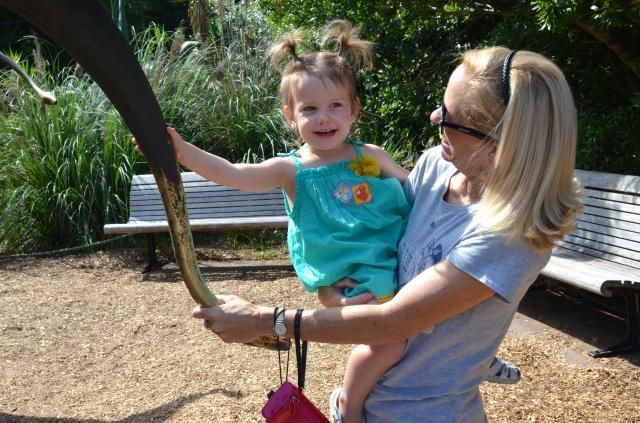 Pulling the elephant's tail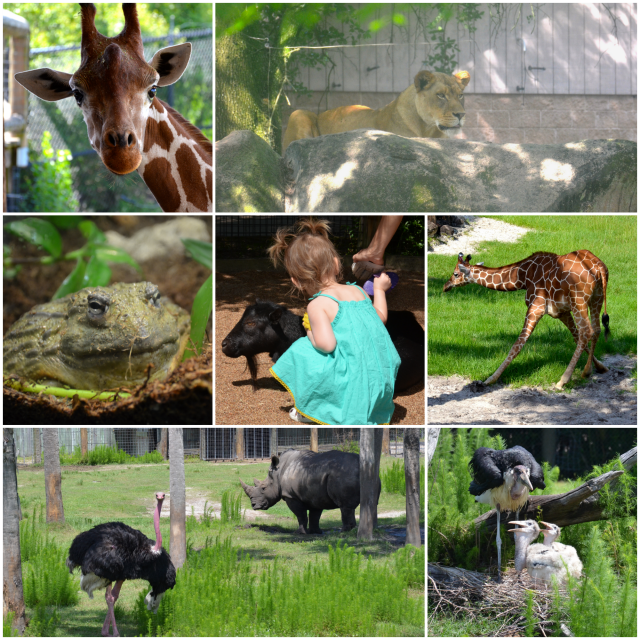 Animals! Including a wobbly-kneed baby giraffe and some baby birds (I'm bad at birds, so I don't know what kind. They were big.)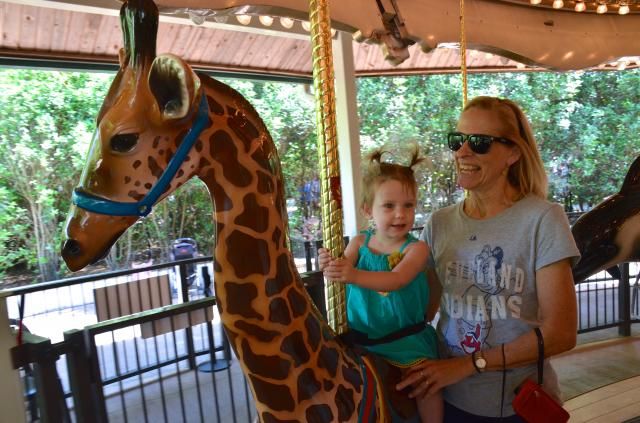 On the carousel - always a hit!
Ellie and Grammy in front of the rhinos
After the zoo we came home for lunch then got Ellie down for a nap, and my mom left. It was a very fun weekend that allowed us to both have a great visit
and
get a lot of things done! Thanks for coming, Mom!