We just got back today from a great spring break, which included Ellie's 2nd birthday party (say what?!?!) and a babymoon for Eric and me at Innisbrook Resort. So, I have more fun things to tell you about!
But first, I want to officially and finally wrap up all my Disney-related recaps. Technically, I'm done with the Disney portion of the program, but as you may recall, the weather was so nice on our last day at Magic Kingdom that we decided to stay an extra night. We booked a last-minute room at the Nickelodeon Resort and thanks to that decision, we were able to squeeze in some more evening park time, including a re-do of the Magic Kingdom fireworks. Good stuff!
Our decision also gave us a fun last morning in Orlando, spent at the hotel pool. Ellie is a water baby if I've ever seen one, and she loved the Nickelodeon Pool when we went
last year
. So, I was excited to give her a chance to splash at the splash pad and hit the water now that she's a little bigger (and actually walking, unlike last year!). As it turns out, she had no interest in the splash pad (just as well, as it was mostly in the shade and was pretty chilly), but she was ALL ABOUT the zero-entry pool. She was so excited about "Ellie 'wimming" and you could see the joy on her face as soon as she hit the water.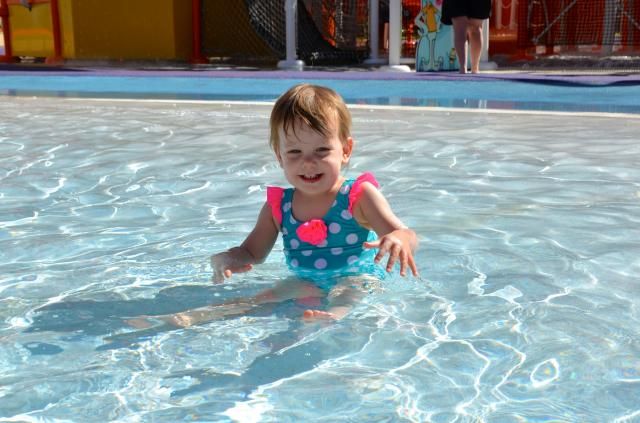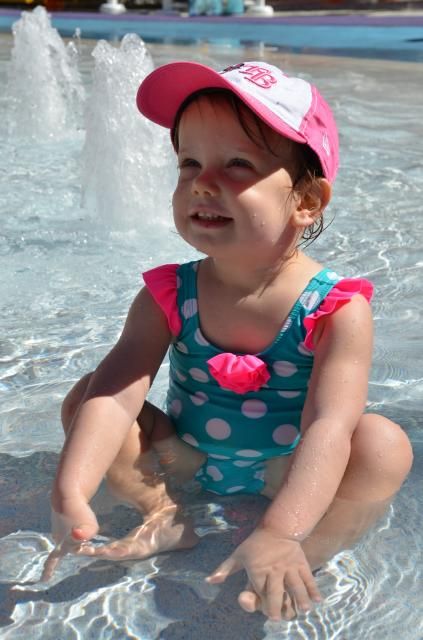 Even when she slipped and did a little unexpected underwater swimming, she was cool as a cucumber. I scooped her right up, she coughed and cuddled for a minute, then she went right back to playing as if it never happened. So brave!
Comforting her after her dunk, although I was probably a lot more shaken up than she was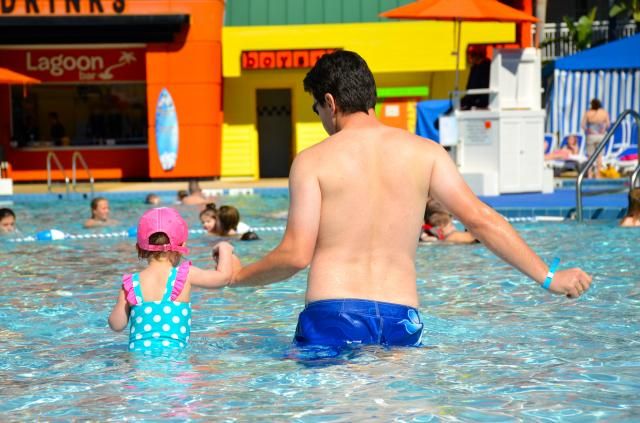 Back out into the water! Headed to the "deep end" with her Daddy's help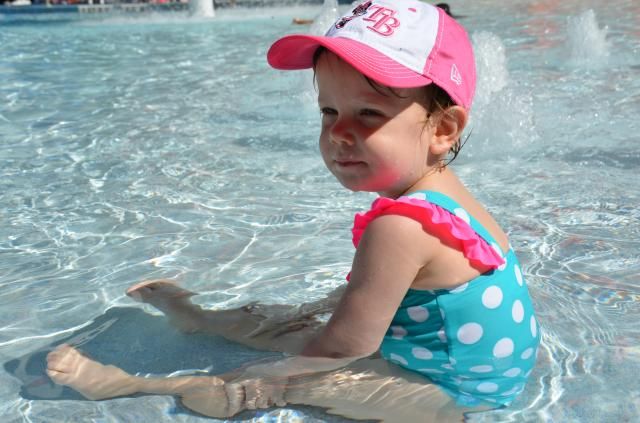 She would've been content to just sit there all day.
She didn't want to leave! Luckily, she's into towels lately (toddlers are weird), which helped the "get out, dry off and get dressed" process, otherwise we might have been calling the Nickelodeon Suites pool our new home.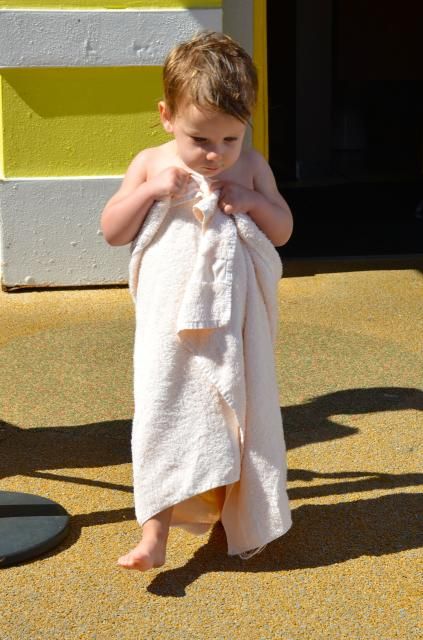 After our pool morning we loaded ourselves into the car and drove back to Jacksonville, a drive during which I expected Ellie to pass out immediately. I mean, three days of Disney parks AND a morning of fun at the pool? I could barely keep my eyes open. As usual, however, she defied car-sleeping logic and was wide awake for the whole ride.
But that, my friends,
officially
wraps up our Orlando weekend vacation! What a great time!