Unfortunately, this post will end my road trip recaps. All good things must come to an end, I suppose. When we woke up Tuesday morning, we were a bit sad to know that our road trip was coming to a close. It was our last vacation day, one that would be mostly comprised of driving, with one quick lunch stop. Boo hoo!
We got up early on Tuesday so we could pack and hit the road by 8:00. We enjoyed seeing the rising sun over the Horseshoe Falls, and took in as much of the view as we could before we had to head out.
Morning view from our hotel room
Sad to leave Niagara Falls!
We checked out of the hotel and retrieved our car from the Casino lot. Before leaving Canada, we made a quick stop at the duty free store to stock up on more Icewine (we are Icewine believers now), then crossed the Rainbow Bridge (this time by car, not on foot) back into New York. Farewell, Canada! It's been fun!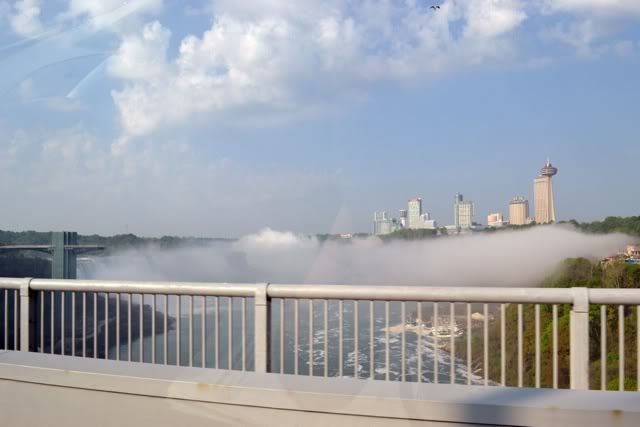 Our last view of the falls as we drove back to the U.S.
We were on the road for about five hours, with the exception of one stop for gas. We drove through even more adorable small towns, up and down hills and past more things we don't see everyday like windmills, cows (even cow babies!), picket fences and wonderfully big, beautiful country houses. Non-NYC America is awesome! Such a nice change of scenery.
We finally made it into Pennsylvania and followed signs for Scranton, which was our planned lunchtime stop.
Any other fans of
The Office
out there? We were late to
The Office
bandwagon, and only started watching within the last year or two. I don't know why we resisted for so long, but thankfully through the magic of Netflix Instant Watch, we were able to get caught up on all the fun we missed in record time. And when we realized our return trip from Niagara Falls would take us past Scranton anyway, we figured we may as well stop at the so-called home of
The Office
. In fact, if any of you happen to find yourself with some time and are passing through Scranton, there is
a whole list of Office related sights
you can see. We only had time for one, though: seeing the "Scranton Welcomes You" sign from the opening credits.
VIDEO: The Office opening credits. The sign is about three seconds in!
Apparently, the "Scranton Welcomes You" sign was originally located on a busy expressway, but after the show's rise to fame, too many people were stopping to take pictures with it and it because hazardous. To avoid having tourists being hit by cars on a regular basis, they moved it to the Steamtown Mall. So, that's where we headed.
We must be going in the right direction!
When Eric and I were there, the Steamtown Mall was a ghost town, but we wandered around a bit and found the sign. We got our picture, then it was back on our way through beautiful Scranton.
View of Scranton from a little walkway outside the mall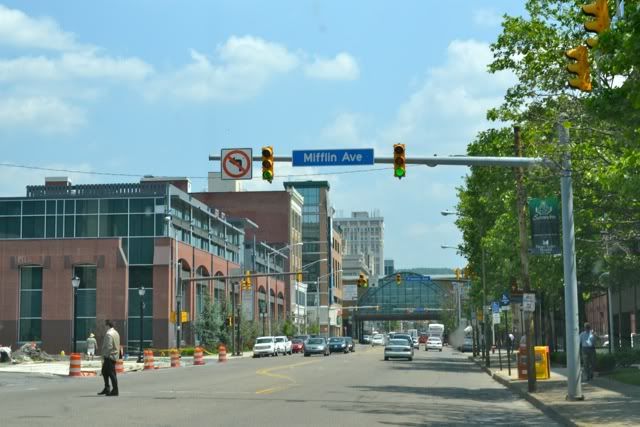 And then it was back on the road towards New Jersey.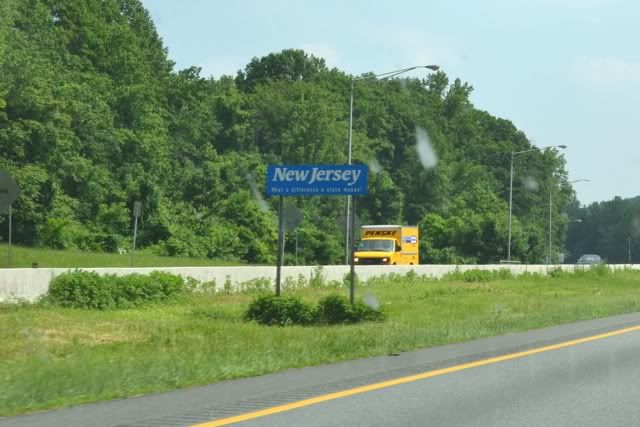 Our drive got a little hairy at the end of the trip. Our Google Maps directions hadn't failed us yet (with one minor exception in Scranton), but as we approached Jersey City/New York City, things fell apart. The exit Google Maps wanted us to take didn't exist, and we ended up all kinds of lost. We don't drive here, so we really don't know streets in New Jersey and did not know how to get home. Traffic was crazy and I got so overwhelmed I tried to get Eric to pull over so we could get our lives together and figure out a plan. I would have been FREAKING OUT if I had been driving - heck, I was freaking out just as a passenger. (I don't handle driving in uncertain situations very well.) But Eric remained calm, cool and collected and got us home. He was smart and just kept the city skyline in front of us, because if we headed towards the city, we're on the right track. He got us right up to (but not into) the Holland Tunnel, which is right near Hoboken. Before too long, we saw this beautiful sight: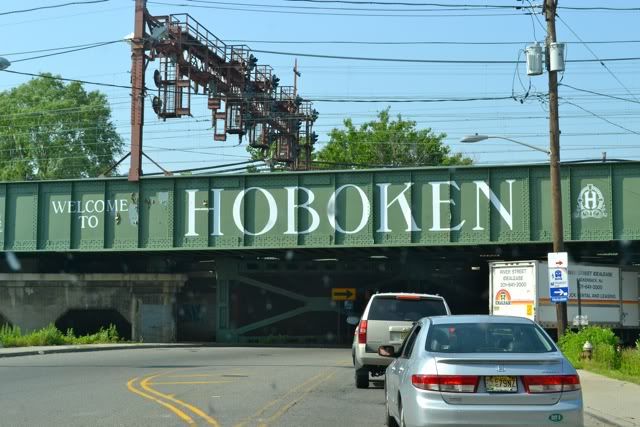 Way to go, Eric! You're a driving all star!
When we arrived safely in the 'Boken, we dropped off the car at the rental place, took our luggage back to our apartment, then went into the city to retrieve the dog from "camp." We still take him to his old boarding place in our old neighborhood because he loves it there so much (seriously, when I dropped him off there this time, he was practically jumping over their counter with excitement to get back and play with his doggy friends!). This time, we were informed he had developed an eye infection when we picked him up, so we had that to take care of. On the way home we grabbed some Daisy May's BBQ (best in the city!) and then spent a relaxing night back on our couch.
And that's it! The fun is over, folks. We had a fabulous trip, saw some great things, made some wonderful memories, and spent some good quality time together as a couple. I'd say that's a pretty successful Memorial Day Weekend!
Note:
Of course, there are a few more Scranton/Trip Home pictures on my photo share site
here
, or check out any of the others you may have missed on the
Travel Pictures
page!