SURPRISE! I'm in Florida!
I haven't mentioned my plans for this trip on the blog because it was a surprise for my sister. She recently started performing in a new show called
Respect: A Musical Journey of Women
at the Straz Center in Tampa, and my dad generously decided to fly me down to surprise her so I could see her show. I was really bummed that I wouldn't get to see it, so I was very excited about this surprise! It really was as much a gift for me as it was for Heather.
And last night, I saw the show! If possible, it exceeded my expectations. It was a great look at the struggles and successes of women in the 20th century, and the music was great! The audience got so into it - we clapped, we cried, we laughed, we sang along. It was really a fabulous show, and I am here now to highly recommend that any of my Tampa area readers make the time to go see it. Here's a little bit about the show, if you're interested:



From "Someone to Watch over Me" to "I Will Survive," Respect is the journey of women told through the music of the Top-40. It's a show that is a journey from the codependence of "I Will Follow Him" to the anger of "These Boots are Made for Walking," to the cynicism of "What's Love Got to Do with It," and finally to the strength of "Hero." Combining excerpts of 60 songs with women's own stories about finding dreams, lost love, relationship issues, entering the workforce, gaining independence and more, Respect is an exhilarating must-see, must-hear evening of theater.

Vanderbilt University professor Dr. Dorothy Marcic created the show based on her book, "RESPECT: Women and Popular Music." For more than the first half of the last century, the voice of women in Top-40 popular music has been one of neediness and dependency. By the end of the century, things were quite different. Popular music had come far enough that women looked for the hero within themselves, were urged to get on their feet and make it happen and were ready to stand on their own with or without a man. Messages in the music encompassed everything from "I am woman - hear me roar" to "I will survive" and encouraged women to find their own dreams.
The show runs through September 26th, with performances every Friday, Saturday and Sunday (with the exception of Labor Day weekend). Tickets are not very expensive, and they also offer "Girls Night Out" packages that include tickets and drinks. All the information you need is on the
Straz Center website
.
Let me just say again that it was an absolutely fantastic show. I realize I am biased because one of the four women in this show is my sister, but I loved it and I don't think you'll be disappointed if you make the time to see it! Please go, and enjoy!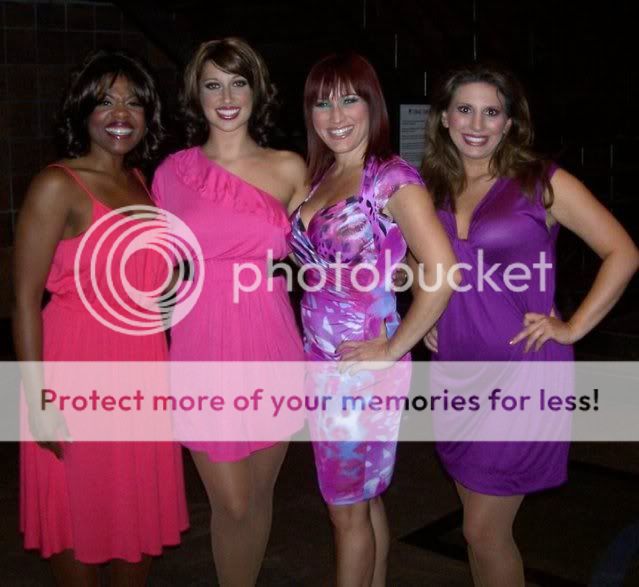 The women of Respect - go, Heather!