I have mentioned in previous posts that we really wish we could have gone home to Florida for this holiday. We don't usually go home for Thanksgiving, though. In fact, I haven't been home for Thanksgiving in five years. But this year we decided to switch things up and I was really looking forward to it. Unfortunately, after spending all those days in Florida earlier this month, Eric really couldn't take more time off work and we couldn't afford to make the trip. What a bummer.
The big reason that made us want to change our usual plans and make the trip to Florida for this weekend was
Gramz's
birthday - she turned 80 years old yesterday! I apologize, I meant to have a post to her up yesterday, but didn't get it together in time, so here I am now to say HAPPY BIRTHDAY,
GRAMZ
. We love you so much and wish we could have been there to celebrate with you. You're the best! Hope you had a fabulous birthday.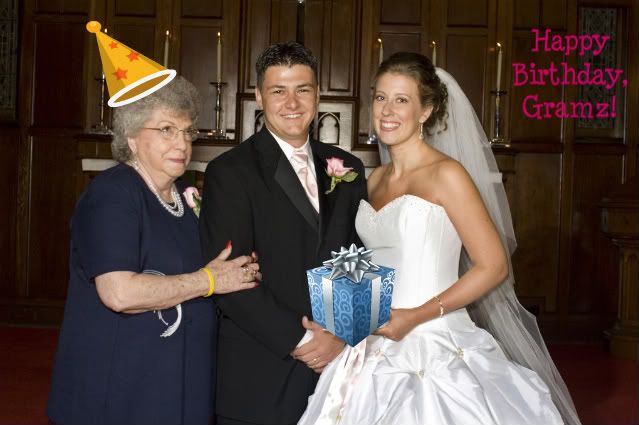 I had to make an old wedding picture a little more festive in honor of the occasion. See? I'm even bringing Gramz a gift.

In addition to Thanksgiving dinner and
Gramz's
birthday, we had other great plans for our weekend at home. For example, we were also trying to organize some W. family participation in the Turkey Trot on Thanksgiving morning.
We also were planning to join our friend Jeff and head to
Gainesville
for the Florida v. Florida State game today. Eric and I haven't been to a
UF
/
FSU
game in
Gainesville
since the last time the Gators lost to the Seminoles - which was many, many (five) years ago.
Eric and me at College Gameday for the FL v. FSU game in 2004 (I'm sporting a blanket made by Toni!)

In addition to being a great rivalry game, today is also Tim
Tebow's
last game in the Swamp. Eric and I so wanted to be there to cheer during College
Gameday
, sport our eye black in
Tebow's
honor, watch the Gator Walk and immerse ourselves in the loudness of the Swamp for the game. Or, at the very least, watch the game from my old place of employment, Calico Jack's. But, now we will go to our local Gator alumni bar, Gin Mill, and watch the game from a distance. I can't believe it's
Tebow's
last game - he will certainly be missed. I'll spare you some emotional dramatics of my own, and instead leave you with a few pictures of my dear Timmy
Tebow
.